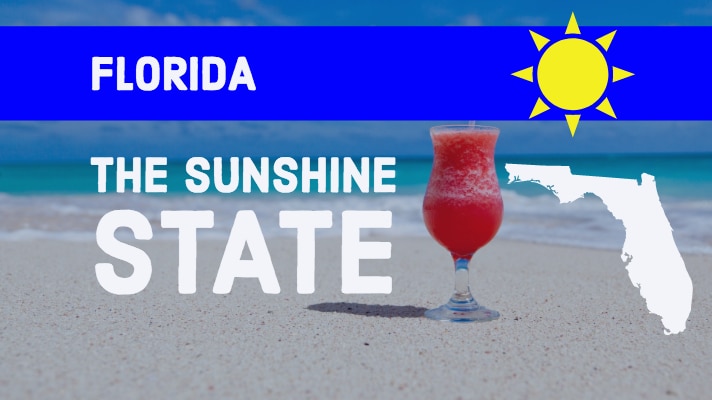 The subtropical climate is the reason for Florida's nickname. The Florida weather is mild and sunny throughout most of the year. On average, there are 230 sunny days each year. The warm, sunny climate is the main reason Florida is so famous. Individuals and families move to the state, tourists choose it for their vacation destinations, and college students enjoy Florida for their summer breaks. The sunshine state and it's air quality attracts tourist from many places in the world. From breaks away from harsh winters to the retirement years, Florida is the top choice for senior citizens. Individuals of all ages love Florida and its official nickname.
Map of Florida

How Old Is Florida?
Before the 16th century, Florida was inhabited by Native Americans. Spanish explorers settled it in 1513. After numerous removals and skirmishes, Florida became a state in 1845. Therefore you can say that Florida is roughly 174 years old.
Floridas Population
As the third most populous state in the United States, 21,312,211 people live in Florida. Florida's resident population is affluent in culture.
What Is The Minimum Wage In The State Of Florida?
Florida implemented a minimum wage increase on January 1, 2019. Because of this increase, the minimum wage is now $8.46. Tipped employees, however, only receive $5.44 per hour.
Floridas Economy
Florida has some of the best universities, community colleges and public school in the United States. Making the sunshine state a top 3 ranking position in Education according to US News.com. Also, it has large companies like Carnival Cruise Line, Publix, Bloomin' Brands, and Red Lobster leading among the companies with the most employees in the state.

According to the US News, the state of Florida has been showing signs of a spurring economic development and growth, earning their number 13 overall rank among all the States.

Also, signs of unemployment rates have been steadily going down due to a 1.9% job growth, which according to US News is considered to be among the top employment growths in the US. We can expect a continuation of job growth due to the new construction project of a massive mall in the southwest Florida area, and also the fact that big companies like Amazon are creating job opportunities as well.
Top 10 Florida Colleges and Universities
University of Miami
Florida State University
University of Florida
Florida International University
University of South Florida
University of Central Florida
Florida Institute of Technology
Nova Southeastern University
Eckerd College
Jacksonville University
How Many Counties Are In The State Of Florida?
Florida has 67 counties. Their names show the state's cultural diversity. Some of the counties have the names of explorers and political leaders of the past. The most populated county in the state is Miami-Dade County. Formerly known as Dade County, it was renamed in 1997. Among the most recognized counties in Florida you can find Miamidade County, Brevard County, Palm Beach County, Pinellas County, Leon County, Monroe County, Duval County, Broward County and Nassau County. Here is the list:
Alachua
Baker
Bay
Bradford
Brevard
Broward
Calhoun
Charlotte
Citrus
Clay
Collier
Columbia
DeSoto
Dixie
Duval
Escambia
Flagler
Franklin
Gadsden
Gilchrist
Glades
Gulf
Hamilton
Hardee
Hendry
Hernando
Highlands
Hillsborough
Holmes
Indian River
Jackson
Jefferson
Lafayette
Lake
Lee
Leon
levy
Liberty
Manatee
Marion
Martin
Miami-Dade
Monroe
Nassau
Okaloosa
Okeechobee
Orange
Osceola
Palm Beach
Pasco
Pinellas
Polk
Putnam
Santa Rosa
Sarasota
Seminole
St Johns
St Lucie
Sumter
Suwannee
Taylor
Union
Volusia
Walkulla
Walton
Washington
Advantages Of Living In Florida
There are more benefits to living in Florida than year-round summer weather. One example is Florida does not have a state income tax. A non-tax state can be beneficial to employed persons who want to move to Florida.
There are plenty of opportunities for vacation home leisure and real estate investment in the sunshine state. Outdoor activities are accessible, including the best beaches in the entire United States.
Florida is a diverse state. If you want to become friends with individuals from many different backgrounds and enjoy the tremendous sunny all year round weather, then Florida is for you. From Port St Lucie to St Petersburg all the way up the north Florida every one is going to welcome you if you decide to move to Florida. Also, Sales tax are generally 6%, which is considered average among all the states.
Disadvantages Of Living In Florida
There are some aspects of Florida that you may not like. Snakes, spiders, and insects are common. Also, Florida drivers spend a significant amount of time in traffic. It seems that the number of people with a drivers license in Florida never seems to end.
It can be challenging to find job opportunities, so you should consider evaluating other options if your personal income depends on a salary. Also, housing can result in a higher cost of living if you are planning to rent.
If you decide to move into Florida or plan a vacation to the sunshine state, acknowledge that there is always the possibility of being affected by a hurricane during storm season. Also, if you see yourself crossing bridges close to the coast like in the Tampa area, be careful and watch the sea levels.
Floridas Highway and Interstates

I-95 Main interstate in Florida's east coast. Begins on US 1 in Miami and runs for 382 miles until the Georgia state line. The famous I-95 passes through different Florida cities like West Palm Beach, St Augustine, Daytona Beach, and Fort Lauderdale.
It then continues the trajectory passing through Georgia, South Carolina, and North Carolina. Staying always close to the east coast and not having to pass thru West Virginia, and ends up near Kittery, Maine close to the Canadian border.

I-75 interstate is also among the top most significant interstates in Florida's west coast. Begins on Hialeah cities border and runs roughly 471 miles until the Georgia state line. The I-75 journey crosses through Naples, Sarasota, Bradenton, Ocala, and Gainsville.

I-4 Interstate highway is very popular because it is the fastest way to cross from the east coast to the west coast when you are located in the middle of the state of Florida. Begins in Daytona Beach passes through Orlando and ends in the city of Tampa for an approximate of 133 miles total.

I-10 Interstate is the second most famous highway used to cross the state of Florida from the east coast to the west coast, primarily if you are located north of Florida. It begins from one of the largest city among Florida cities Jacksonville, all the way to the Alabama border for an approximate length of 363 miles.
Auxiliary Floridas Highway

What Is Florida Famous For?
The state is well-known for a wide range of tourist attractions. In recent years, it has become known for Hurricane Andrew. The hurricane caused much destruction, and many people left the area. Florida is also known for boating and other water sports, snowbirds, and citrus fruits.
The mythical Fountain of Youth is linked to Florida. Hence, this myth is also connected to the explorer Ponce de Leon, who arrived on the land in 1513. Also, we can all agree that Disney World is one of the most famous attractions known in Florida. Another famous busy street is Ocean Drive in Miami Beach, were many movies scenes have been recorded.
Last, the everglades national park adventure is something that you don't want to miss. If you find yourself visiting Florida during the summer, then Miami Beach, Key Largo, and Siesta Key Beach are the place to enjoy the great weather that the state of Florida has to provide.
Top 10 Places When Visiting Florida
Tourists and locals alike love these following attractions in Florida:
Disney world
Universal Studios Orlando
South Beach
Kennedy Space Center
Key West
Sea World
Busch Gardens
Castillo de San Marcos
Clearwater Beach
Everglades National Park
What Are The Florida Sports Teams?
All the major league professional sports have teams in Florida.
Baseball: Miami Marlins and Tampa Bay Rays
Basketball: Miami Heat and Orlando Magic
Football: Jacksonville Jaguars, Miami Dolphins, Tampa Bay Buccaneers, and Orlando Apollos
Ice Hockey: Florida Panthers and Tampa Bay Lightning
Soccer: Inter Miami CF, Orlando City SC, and Florida Tropics SC
Lacrosse: Florida Launch.
Florida also hosts Major League Baseball spring training, semi-pro and minor league teams, individual sports, and college sports.
Interesting Facts About Florida
State of Florida's flower is the orange blossom.
The number of toll roads and bridges are higher than in other states.
There are more than 1250 Floridian golf courses.
Alligators and crocodiles live together in the Everglades with excellet air quality.
The state produces more watermelons than any other State.
St Johns River in Florida is over 310 miles long.
The sales tax rate is generally 6 percent in the state of Florida.
The original name of Key West was Cayo Hueso.
St Petersburg Sunshine Skyway Bridge is among the largest in Florida.
Governor Ron Desantis is the chief excecutive in Florida.
Jeanette Núñez born in the Miami-Dade County was selected Lieutenant Governor.
You can order birth certificates and marriage certificates at your local county office.
Investing in Florida Real Estate
Florida construction and location is great for real estate investors, because of the number of tourists visiting the state is always looking for a vacation home to stay in. By managing multiple investment properties in a limited liability company, you can rapidly create a steady flow of passive income.
With a property management program in place and the advice of a local agent, you can start purchasing income-producing assets in no time. Also,  areas like Miami, Orlando, Sarasota, and Tampa are in high demand for AIRBNB properties. All real estate transactions have to be recorded in the counties public record, and this has been proven to be a great resource management system for clarity when it comes to investing in real estate.
Florida cities especially Miami, Pembroke Pines, Merritt Island and Ft Lauderdale have solid rent prices and Florida history. With the development of new mobile application for rental units like AirBnB, the rent prices and the overall market seem promising. If you are planning on visiting Florida, then you won't regret all the great weather and activities like national park themes, and professional sports current events available all year long.
Final Thoughts
Florida is a perfect state to live in if you love the ocean. No matter where you stand in the sunshine state, you are never 60 miles away from the sea. Also, you can dive into the most beautiful coral reef, or get a suntan in the white sand of our state's best beaches. More so, you can go watch a Miami Heat game or a hockey game if you are a Florida Panther fan.
You can be at work wearing your suite with red tide, and the next five minutes you could end up having a great conversation at the beach with coworkers at a happy hour. Floridas beaches are consider to be better than Puerto Ricos beaches. So whether you are planning a vacation trip or thinking of moving to a new location, consider the state of Florida. These are some of the reasons it is an ideal place to visit and live.
Quick links for Florida References
Always following the American official motto "In God we trust."  For more information about Florida taxes, public school data,  and Florida constitution visit the official website of the government of Florida. If you want to know how to get your first mortgage go to our real estate guides.
Related Posts