13 Best Tips to Sell A House on a Busy Street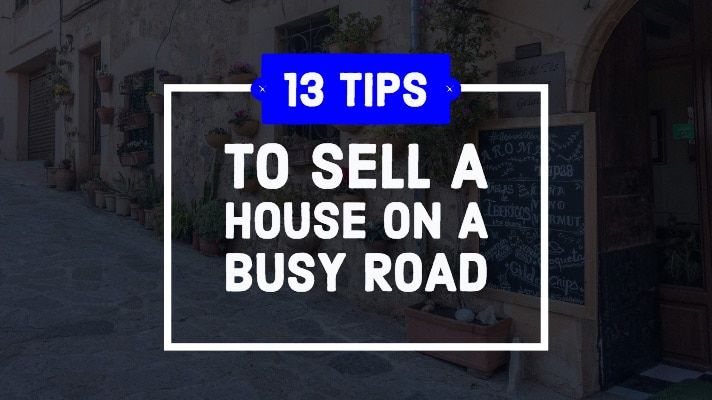 Tips For Selling a Home on a Busy Road
Many home owners have asked if a home seller should do anything differently if they are selling a house on a busy street. Typically, there are more challenges on a busy road than for one in a quiet subdivision. Families with small children usually will look for homes in quiet neighborhoods. Most parents with kids want to avoid living on a busy street.
Time tested real estate selling techniques can help consumers sell their home regardless of the location. It is a competitive market. Maximizing the sales price as well as selling a house quicker can be accomplished by following our 13 tips for selling a home on a busy street. While these tips will help regardless of the location, they become even more critical especially if you are looking to sell a house on a busy road.
Most important, price your home appropriately based on the location, the market value and the attributes of the house. Take the right steps and follow our tips. Your realtor can survey your home to prepare recommendations regarding if you need to do any upgrades. The agent will evaluate the homes near yours, and he will provide you with a list of things home buyers are expecting when they are looking to purchase their dream home. Be patient, and your home will sell.
Here are 13 time tested home selling tips on a busy road:
Prepare yourself before selling
Get help from a local Real Estate Agent
Set the correct price from day one
Allow your Realtor to show with ease
Bring Your landscaping A game
Clean a paint baseboards and doors
Get rid of bad smells
Let the light come inside the house
Use a for sale sign strategy
Upgrade your curb appeal
Allow open houses
List in the correct time of the year
Choose the correct offer
Now here is a brief explanation on each of these 13 home selling tips:
1. Prepare yourself before selling
Home owners planning to sell their home can prepare themselves in many ways regardless of the location. One of the most critical areas is to have realistic expectations. Also, freshen up your home by completing all minor repairs, freshen up the landscaping, improving curb appeal, and potentially inexpensive upgrades such as painting, cleaning the carpet. Don't forget to de-clutter as well. Along with the emotional aspect of leaving your home, it can be a great deal of work to complete.
It is critical for you to manage your expectations. The exact same home will often sell more quickly and for a higher price in suburbia vs. on a busy street vs. in the country. Your realtor can help to establish comparable pricing taking into account location and traffic conditions.
Preparation, open houses and showings all take time along with completing the negotiations. It can be a hectic, busy and an emotional time. Besides, you're probably looking for a new place to live assuming your home sells in a reasonable amount of time. Also, you should consider doing some minor upgrades to increase the market value of your home. Talk to a local real estate agent and compare homes in your market, you want to bring you home up to market standards to satisfy your home buyers needs.
2. Get help from a local Real Estate Agent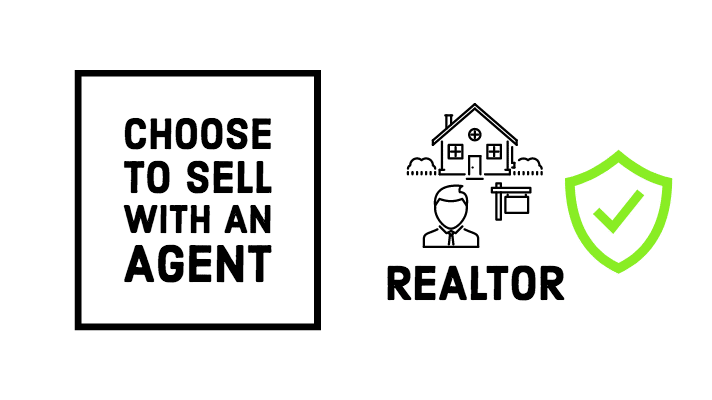 Selling a home on a busy street is a more significant challenge than other homes in more attractive locations. Find real estate professionals who have experience at selling a home that may have issues to overcome. How will they market your home? What suggestions do they have to make your home more attractive and competitive? What specific real estate marketing steps will they take to ensure buyers see your house?
A local listing agent who is familiar with dealing with these issues will answer questions and will provide you with a pricing strategy based on recent real estate sales. Many people are reluctant to hire an agent because they feel they can avoid the commission by selling the home themselves. But the truth is that you want a real estate professional that understands the selling process and that knows how to sell real estate by your side.
Your agent will handle all of the real estate marketing related activities, including open houses, social media, showings, listing photos and negotiations. These activities can be time-consuming and even difficult for the inexperienced. Hiring a professional local real estate agent to market your home can reduce the stress and the workload. They will ensure you get a great offer for your home even if it is on a busy street.
3. Set the correct Price from day one
Many consumers will make their online comparisons before trying to sell their home. Many feel that a similar home to theirs should be a good indicator of the correct price. Location is crucial. The same house will likely sell for more in a quiet subdivision than one located on a busy street, everything else being equal.
The main reason is that buyers are looking for homes in subdivisions with quieter streets, especially if they have families. Location makes a huge difference and buyers know this. They want a home in the best location in town. As a result, sellers must price their home to sell accordingly. Home sellers must do everything they can to ensure their home is competitive and attractive.
For you to sell your home fast, you need to evaluate the recently sold homes in your area. Try to find out what affected the value of the homes that were sold for a lower price. Evaluate the conditions that made the owner lower the price, and find out if they did any home staging for these properties. We will touch on a few of these later in this article. Everything from landscaping to keeping your home fresh and new looking can make a difference.
4. Allow your realtor to show with ease
Your realtor will schedule open houses and showings for potential buyers. They are focused on selling your home. Flexibility and support for your agent are essential if you want to sell real estate. It can be even more so for homes on busy streets.
Your realtor may schedule showings at quieter times during the day. They may want to have multiple showings on the same day. Open houses can mean your home is unavailable to you and your family for extended periods. The time and frequency of showings and open houses may be inconvenient. However, allowing your agent to show the home whenever home buyers need to see it can mean the difference between a sale and for the property to sit on the market for a longer period. Flexibility plays a significant role in aspects of the real estate industry.
Your home should be pristine. Remove all clutter and follow your agent's recommendations regarding preparations for showings and open houses. Consumers selling a home on a busy street must work at removing all obstacles from a buyer's mind. Make the job of selling your home easy for your realtor and maximize your sale price.
5. Make sure you bring your landscaping A Game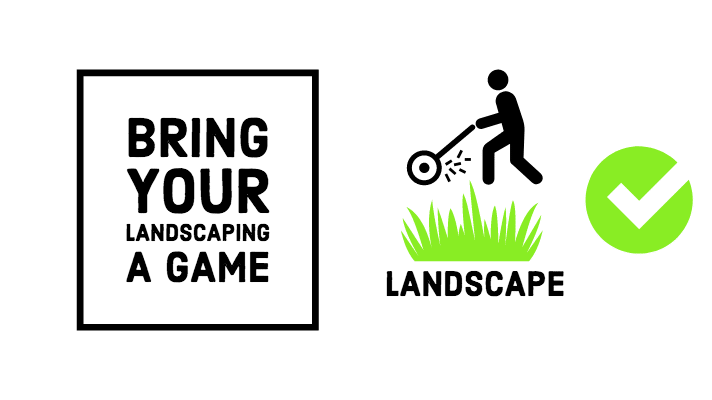 A busy street may be off-putting to many potential buyers. However, you can soften that first impression of your home by updating the garden. An attractive well-landscaped home will immediately cause buyers to focus on the house rather than the street. A well-manicured lawn, flowers, and shrubs will create that valuable first impression that every seller aims for.
Don't skimp on the side yards or the back yard. They should match the front area of the home in terms of being attractive and being well maintained. A poorly maintained backyard counters all that was accomplished by the excellent curb appeal. You want to add a backyard oasis to your house if you don't have one because that creates a homey environment. Also, add a water feature or plant trees to give your residential home a fresh tone.
Many home owners have opted for landscape features that act as a barrier to the road noise they routinely experience. A stone wall, shrubs, or a fence can create a sound barrier as well as a visual barrier. Some consumers will even create a small sitting area surrounded by shrubs to provide privacy and sound deflection.
6. Clean and paint baseboards and doors
Your home may benefit from a fresh coat of paint. Scuff marks on baseboards and doors are easily removed by repainting. Clean the carpeting, repaint the walls. Try to avoid that tired look that many homes have if they have been lived in for some time without regular maintenance. A house flipping real estate investor will notice the condition of your home and will try to take advantage by submitting low ball offers.
Ask your realtor to conduct a walk through and make suggestions regarding how to prepare your home for sale. De-cluttering and repainting are often at the top of the list. Also, repair any obvious defects. Dripping water taps, worn carpeting, nail holes, smudges on walls, etc. can all lead to a less than a desirable impression for the buyer. Try to ensure that your home is super clean for all showings and open houses. Making minor repairs will also prepare your house for appraisals, this will help later with the real estate financing process.
Many people do not like to receive these types of comments about the home they have lived in for some time. Try to remember that your realtor is assessing your home from a buyer's view. He or she is making suggestions to maximize the opportunity to sell your home quickly and for the highest possible price. Selling your house fast can be achieved with a combination of reasonable pricing and attractive home.
7. Get rid of any bad smells
Whether you are selling a home on a busy street or somewhere else, if it smells terrible, buyers will be turned off. Bad smells can originate from many different areas. Familiar bad smells come from the obvious such as forgetting to get rid of the garbage, cooking smells, damp or moldy conditions, pets, etc. Many consumers who live in a home with a bad odor may not even notice. They have become accustomed to the smell.
Although it can be potentially embarrassing, ask your realtor or a good friend what your home smells like. If it is a friend, make sure you let them know that you will not be offended. After all, whenever you are selling your house, you want to avoid any potential distractions for home buyers. Ask them to be honest and that you are genuinely looking for help. The inside of Houses on busy avenues or roads need to have a huge first impression of the inside of the house. A bad smell does not cause a good feeling when home buying.
Finding out that your home smells bad is the easy part. Determine the cause and take action to either mask the cause or get rid of the cause can be more difficult. You may need to clean the carpets, apply a fresh coat of paint, open the windows and avoid cooking with lots of spices. Whatever it takes to get rid of the bad smell and make your residential home as attractive as you can. If you are asking yourself is a bad smell ever affected the value of a property in the past? The answer will probably be no, but a bad smell affects the overall selling process.
8. Let it be Bright… (Let the light come inside the house)
Many buyers are looking for bright, cheery homes. Homes that are dark appear lifeless and are difficult for buyers to envisage living in your home. Make an effort to let lots of light into your house. Selling your house can be much easier if the potential home buyers can actually see the inside of your home.
Start with the outside and trim any shrubs or trees that may be limiting the amount of light entering your home. Your windows should be clean. A dirty window will be a huge turnoff to many buyers, especially for houses on busy streets. Inside your home use bright colors that brighten up your room even on a dull day. Judiciously use lighting on houses on busy roads to provide a bright and cheery look when you are showing your home in the evening.
Ask your agent for suggestions on how best to achieve an attractive, bright lively look to your home. A fresh coat of paint is relatively easy to apply and inexpensive. Reduce the amount of dark furniture in your home and also clutter that can contribute to a shady looking home.
Real estate investor
Also, leave room for improvement, a real estate investor might purchase the house to fix and flip or as a rental property. People investing in real estate tend to find properties that they can add extra value to, for example, like adding a room or a home office. A real estate investor will know your local rental market, and after purchasing the property, the investor will decide if he wants to fix and flip or keep as a rental property for cash flows purposes. The good thing about selling your house to an investor is that you don't have to worry about the buyer's credit scores or mortgage approvals since most real estate investors purchase properties with cash. Let the light in so that the real estate investor can see the potential of your home.
9. Use a For Sale Sign Strategy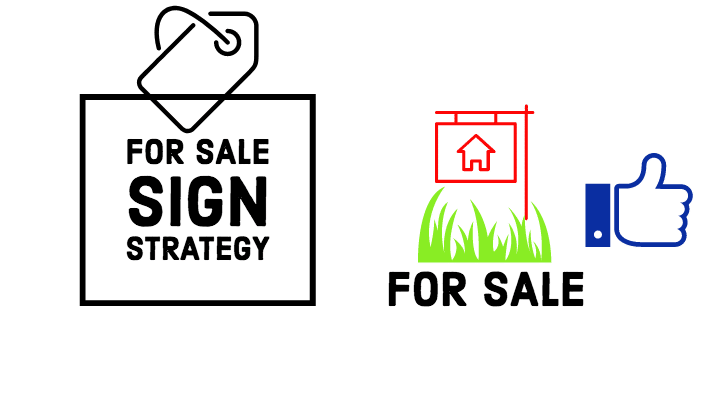 One of the significant advantages of living on a busy street is that you have a large number of people passing every day. They will see the for sale sign and may become a potential buyer. Take advantage of the increased traffic and make the for sale sign stand out.
Provide more information than the standard phone number and the realtor's information. Emphasize the strong selling points of your home. For example – newly renovated, large back yard, new landscaping, pool or hot tub, finished family room, etc. Focus on those items that are your homes best features to attract potential buyers.
You can also help the agent craft the message that you want to include on the sign. Detailed information flyers are also sometimes left in a box attached to the for sale sign to help interested parties decide to make an appointment for a showing. To sell your house fast on a busy road you don't necessarily need to lower the price or make significant adjustments. Your realtor can look for a real estate investor in your area that can fix and flip your home or buy it as a rental property to generate monthly cash flows.
10. Upgrade your curb appeal
It is obvious that curb appeal is one of the most critical aspects of selling a home. The front of a home is the first impression that a buyer has of your house, especially the front yard. Some potential buyers will not even enter a house based on poor curb appeal. The lawn should look great, and it should be up to date and trimmed. Your driveway should be in good shape. Windows and doors should also be attractive and well maintained.
Even the roof counts as part of curb appeal. If your roof requires replacement, potential buyers may not consider your home. Also if the house needs a roof replacement, many buyers do not want to deal with these sorts of issues.
11. Allow open houses
Open houses are one method real estate professional use to attract potential buyers. Real estate agents can advertise Open houses in advance. Many prospective buyers will tour open houses in an area they have identified as a place to live. They may or may not be working with a realtor.
With your "For Sale Sign' that pops and an open house sign that stands out on a busy street, your open house could bring lots of potential buyers.
An open house is also an opportunity for other realtors to see your home. They are working with buyers and may know of several that are looking for a home just like yours in the price range your home is listed at.
12. List your home in the correct time of the year
Agents can sell homes at any time of the year. However, there are trends such as early spring, late summer, and even winter if you are in a tourist area. Many consumers sell their homes because they are being transferred or are moving to take employment in another location. They may not have the flexibility of selling their home at the best time of the year.
Discuss your situation with your realtor. Based on the local market conditions your realtor may suggest listing your residential home at a specific time to give you the best advantage in terms of selling it at the best price.
13. Choose the correct offer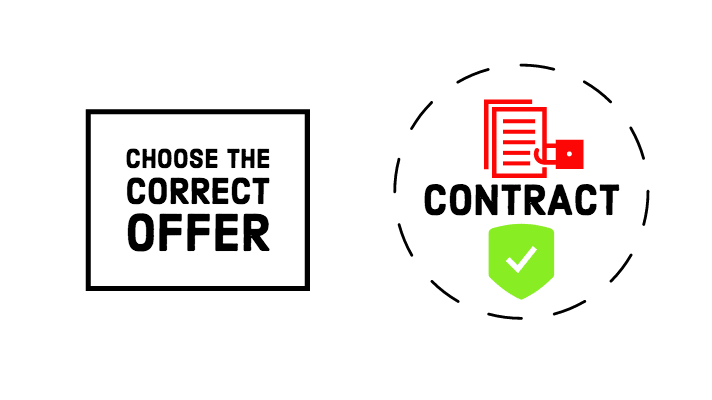 The first offer may not always be the best offer. You should consider some criteria in situations where you have more than one offer to choose from. For example, the closing date may be significant if it meets your own timeline. An offer that is conditional on financing is not as strong as one with all financing already approved. What are the conditions that have been included with the offers? Are they reasonable and can you accept them without unnecessary expense on your part?
Your realtor can provide counseling on how to sort through multiple offers as well as timing your response. He or she can also handle negotiations for you with the buyer's realtor. Bottom line choose the correct offer that provides the best outcome. The highest price is not always the best offer to accept.
Choosing the correct offer would come with experience; that is why it is imperative to work with a realtor. Most agents can show your property to people that like investing in real estate. If an investor can bring a cash offer to the table, you won't need to wait 30 days for closing, which is common in real estate financing. Also, expect to receive low-ball cash offers from house flipping companies. These companies will try to take advantage of distressed property owners or homeowners selling their houses on busy avenues or roads.
Extra tips for selling a home on a busy road
Market Conditions
According to FRED Economic Data home-ownership rates have been steadily increasing since the last drop in 2008. The overall housing market in the United States, as well as the home-ownership rate, has remained stable and unit owner occupies 64.8% of American housing units based on the results of the last quarter of 2018.
For more information about your local market conditions, you should contact a realtor in your area. Also, visit their website typically agents will have information about the market or they will have recent posts with graphs. If they don't have that information on their website, they can provide you with additional resources from their local real estate associations.
Downsizing
If you are looking to downsize a home, contact a local real estate agent to see how is your current market conditions. By downsizing your home, you can reduce your monthly payment, and you can also use the capital gains produced from your home equity to pay off old credit card debts or personal loans.
Commercial property
Selling commercial real estate on a busy road is very different from selling residential real estate. When buyers are looking to purchase a commercial property, they are looking for that extra real estate exposure that a busy road can provide. On the other hand, when home buyers are looking for residential real estate, they want a dream home that offers them a peaceful environment. A busy road can be an obstacle to selling your home.
Lucky for you, now know the 13 selling tips that are going to give you an edge when it comes to selling a house on a busy street.
Final Thoughts
Remember there is always a buyer for every home. Selling your home located on a busy street depends on many factors just like other homes on less busy roads. Unfortunately, the number of potential buyers will be less, and the price may be less than a similar house on a quiet street in suburbia.
There are steps that all home owners can take to maximize their selling price and increase the probability of selling your home quickly. Review the tips provided in this post, discuss them with your realtor and develop a plan to prepare yourself and your home to be sold. Don't forget curb appeal, de-cluttering, freshen up your home and complete all minor repairs.
When people are home buying, they tend to go online and listing photos as their first impression. Make sure you find a local real estate professional that can provide great listing photos and social media coverage. Don't be afraid to ask for tips for selling your home. Also, it would be great to have someone who can present your home to as many people as possible, so that your residential home can end up in more saved searches online. With your realtor's help, you can establish a competitive price for your home that will attract buyers. With the additional traffic in your area and a solid real estate marketing plan, you will have a significant advantage in selling your home.
Visit our real estate guides for more featured articles and additional resources.