Comparative Market Analysis | Top 11 CMA Questions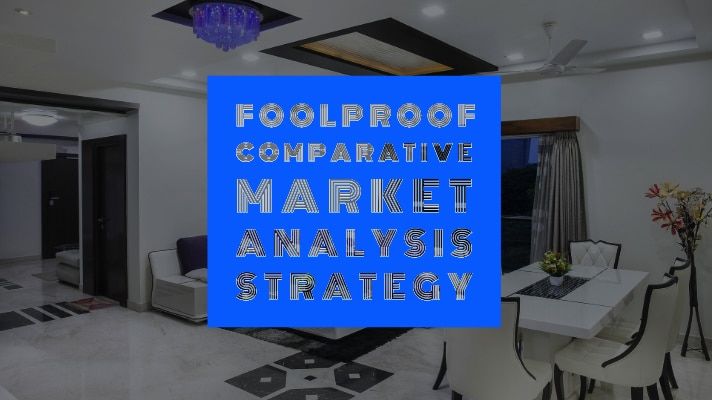 11 CMA's Key Questions That Everyone Should Know
Not obtaining a CMA comparative market analysis before receiving any offers is one of many home selling mistakes that every home seller should try to avoid. A Comparative Market Analysis, called a CMA, can be provided by your local real estate professional to assist you in determining your current estimated home value or your homes price. A CMA helps the seller understand when to accept a reasonable offer. A thorough CMA can also help you decide whether repairs and upgrades will significantly raise the amount of your house. Consider obtaining a CMA only if you are serious about selling your house.
These are the top 11 questions that every home seller should know:
1. What is comparative market analysis?
When real estate agents are working with home buyers to determine the value of a property before they offer to purchase, or sellers to check the listing cost, they do something known as a comparative market analysis (CMA).
By revisiting the records of the sold properties and sold prices, the real estate agent chooses a property recently sold that is the same as the targeted property and in a similar geographical region. By cross-referencing these properties and adjusting for differences in various features, the professionals make value estimates for the target property. But an expert real estate professional will conduct another different comparative market analysis for a buyer or seller.
The second comprehensive CMA includes comparing the subject property with other various currently listed properties that are similar to it in the locality. The real estate agent uses the same methods with presently listed real estate properties. That allows for an assessment of the current competition and may result in a decrease or an increase in the valuation depending on the sold properties.
2. Who prepares a CMA?
A professional real estate agent prepares a CMA by examining about ten real estate properties that compare to your subject property in terms of size and location to determine an appropriate selling rate. Getting a CMA from your real estate agent is always among the initial steps you will require when doing writing an inventory of your property. Your agent will write an in-depth analysis of the current market situation and provides you with a report that is based on facts to offer you the best listing prices for the subject property.
The main reason why agents are the ones to write a CMA is that they have access to some resources that most sellers and buyers don't have. They also have an understanding of listing and marketing needed to determine the best value estimates of a property.
3. What does a CMA consist of?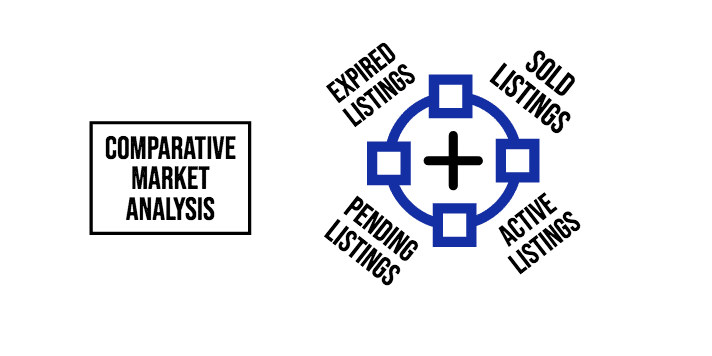 A standard CMA report typically uses the following sources:
Expired listings: These homes have the highest median price as they did not get buyers due to being unreasonably priced. Listings can also expire due to the failure of being marketed aggressively.
Sold listings: These are a list of sold properties within the past three months. These are the sales that your real estate agent will use when appraising a property to a client.
Pending listings: These are active listings that are under contract. They are used to show the direction toward which the real estate markets are going.
Active listings: These are the properties that are currently on sale. These properties matter because they are the competition of the subject property. They don't indicate the market value since the seller can sell their property at any price they wish. They suggest the current market value of a home in a particular region.
4. Is a comparative market analysis the same as an appraisal?
A CMA and a real estate appraisal are entirely different. Simply put, a CMA comparative market analysis allows real estate agents and buyers or sellers to determine the cost of similar properties to their subject property, while an appraisal gives the value of the subject property according to a professional and licensed appraiser. The appraisal is the amount the lenders use to determine the amount of loan they are willing to give you to acquire the property.
To make them as correct as possible, they both require some information, including the essentials like bedrooms, bathrooms, number of floors, the condition of the building, whether it contains a pool or not, and the square foot. Also, they consider the geographic area as it is very crucial when giving value to a property. The "location location" old saying is very true when it comes to a sales comparison approach.
The other difference between a real estate appraisal and a CMA is that a CMA uses recently sold properties to determine the value while the other one uses real estate market analysis and other extra parameters. An appraisal is based more on the condition and features of the subject property, and the comparable sales.
5. Comparative market analysis vs. Appraisal – Which one should I get?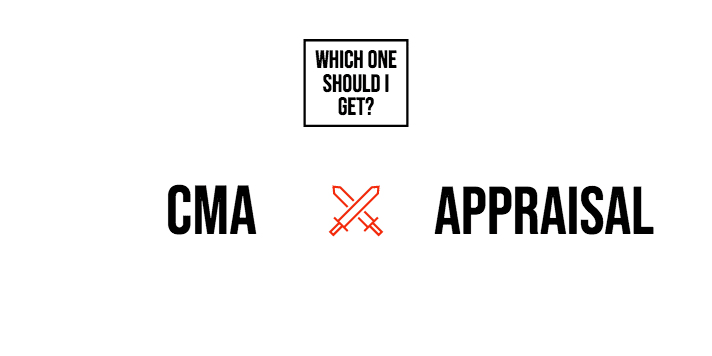 An accurate CMA is beneficial to both you and your marketing agent as a tool to determine the initial face value for a property, but it is not a legitimate requirement of the process. If you have an excellent understanding of the listings of various similar projects nearby, you can do away with the CMA. An appraisal, on the other hand, will be needed before closing the transactions, unless you will be paying cash.
Lenders will require a professional appraisal written so that they can be confident that the property is worth the amount of loan needed. If the real estate appraisal is below the buying price, you will always be given an option to pay the difference and continue with the purchase. Sellers can also lower the cost of the property to correspond with the appraised value instead of losing the trade.
A CMA is an excellent marketing tool to ensure that your property is in the vicinity concerning its listing cost, but it is not a necessity. An appraisal, on the other hand, is needed if you will get the money to purchase the property from a real estate company. A brilliant investor utilizes both.
6. How accurate are CMA's?
The accuracy of a comparative market analysis depends on the real estate agent's knowledge of a particular area, and the quantity and quality of the available sales information for your real estate markets. When having a comparable consistency in the real estate sales, determining the possible purchase cost is somehow simple. In relatively new or new real estate developments, the variability between one model of housing to another is little.
But finding reliable comparable sales in areas that were built over a long period can be hard. To make matters worse, you can see a mixture of old remodeled properties and others in poor conditions. A market with a low sales volume and lacks comparable real estate sales complicates things. The goal is to compare homes and to calculate an average price per square foot based on comparable sales.
7. Is comparative market analysis free?
Are you looking forward to selling your property? If you are, you don't want to sell it at a cheaper cost than the market value. By setting a higher listing value than the realistic one, on the other hand, could become a mistake that can make your property not to sell.
You will need a real estate agent to do a CMA for you to avoid that. Most agents do a market analysis for free. You only need to ask your agent to provide you with one, and you will get all the information you need to make sure that you get the best value estimates for your property.
8. What does a comparative market analysis look like?
A CMA includes carefully collected comparable houses to your subject property. It should have both sold and unsold properties. If the quantity allows, use only the homes with similar construction types. The comparable properties should be from as close to the subject property as possible. It also has information on the adjusting value of different properties. There are always differences in similar properties which are usually in the example CMA that the realtor provides.
A CMA also has a current market analysis of the competitors that lists all the properties that are competing with your building at that time. Also, it includes a list of factors that could have resulted in differences in various price listings. The results in an example CMA are displayed in a format that is straightforward to understand, and they make it easy for you to see if the listing for the subject property is realistic or not.
9. What is the Main Objective of a CMA Strategy?
Knowing the actual value of your home will help you decide if you make any improvements or upgrades. In other words, combining the value of the house with the current competition in your area can help you determine the type of improvements you need to make. Also, knowing the acceptable market value will enable you to fine-tune your decision making when going to negotiate any offers.
Don't neglect to tell neighbors, friends, and family you're selling your residence. There are many points you need to know when selling a house and all of them have an influence on each other. If you're thinking about selling your home, have a fantastic concept behind it to confirm that now is the best opportunity or time to be on the real estate markets. When selling your house, more frequently than not, you'll find a point at which you'd have to negotiate. In the negotiation process of selling your home, an accurate CMA is a necessity.
10. What is so fascinating about a Comparative Market Analysis?
For many individuals, selling a house is among the most essential and individual decisions they will make. You don't need to be doing all the selling process by yourself. Hire an agent who's is willing to follow up with you from time to time in an attempt to win your negotiation on your behalf. An agent is crucial when it comes to helping you analyze all the info in a comparative market analysis. Of course, the actual estate agent stipulates a CMA in hopes of listing your dwelling. If you take advantage of a real estate agent, then you won't need to worry much about the cost.
Whether you have opted to use a realtor or not it is recommended to consult with one concerning the current real estate industry and the current real estate markets as well. Before a realtor turns into a broker, they have pass another test to become one. Good realtors who offer value to their clients don't have to be concerned about anything, when you are listing your home select an agent or broker that is going to make your property his priority.
11. What should you know about a CMA Strategy?
It's essential to use the expert advice of a professional realtor to ensure that your house is priced right so it can sell quickly and without issue. In all instances, the experience of a skilled realtor can help you establish a winning hand when it comes to the negotiation process. Employing the help of a real estate agent before selling the property, especially in Miami, will help you evaluate the condition of your house before suggesting a price to sell. Keep in mind that the key to selling fast in Miami is to price the home adequately based on the current market conditions.
Frequently, residential home buyers fall in love with the very first or second home they see. Most of them can readily forego far better opportunities because of this. Sometimes home buyers have their agents do a CMA on the properties they'd like to purchase. Home buyers utilize their realtor's expertise to figure out the property value before making an offer. When it comes to select between multiple offers, choose a buyer with strong credit who doesn't need a considerable percentage down. Usually, buyers first acquire pre-approval from the bank before looking for their perfect home during the home buying experience. Ultimately it's the negotiation that determines the selling price of your residence. Keep your house staged for the appraiser just like you do for buyers.
Simulated CMA
You can do a simulated CMA on your own. Go online and compare homes of recently sold listings, current listing or active listings, and pending listings. Make sure you evaluate homes with the same amount of bedrooms and bathrooms as the subject property. Once you have the list of properties, calculate the price per square foot of every property on the list. You can do this by dividing the listing price or sales price by the number of square feet of the property.
For example, if your property is 1000 square feet and your target price is 200,000 dollars, then the price per square foot is 200 dollars. After you know the square feet price for all the properties, you can add all averages and divide them by the number of properties you have on the list. Finally, you will get an average price per square foot in your local market, multiply this number by the amount of square feet your home has and you will get a rough simulated home valuation result.
You should not take this particular simulation as a real-world example CMA. The simulated CMA is just an example for you to evaluate your own property. It does not mean that this is how agents calculate CMA's, nor that the result is your home's value. Real estate agents utilize various types of computer software that compute market analysis with extreme precision.
Talk to a top real estate agent in your area he or she can provide you with a professional comparative market analysis.
Final Thoughts
From time to time, you can become so stuck in the home valuation price. Most of the time you don't even wish to negotiate any offers. Never assume that the home valuation's price will be the final selling price. Because a mortgage denial can hurt your sale, locating a buyer with extra capital offers you a security net. A certified appraiser always performs an appraisal right after the property passes home inspections. The bank will determine the current market value of your home by sending a professional state licensed appraiser to check your home's physical features.
In the majority of instances, for your home to qualify for any loan, you should have a home valuation done. You can use an assessment to fix major issues or repair requests beforehand. Don't think the suggested property value or listing prices will be the best prices to sell your home. Before listing your home, you should get different opinions of your how much your home is worth.
Improving your homes curb appeal can add value to your property and also help give a good first impression on any home buying experience. For information about retirement planning contact your financial advisor. Our real estate agent can help with short sales, home sells, home buying or renting. Let us know if you need a professional home valuation.