Top 12 Biggest Obstacles to Sell a House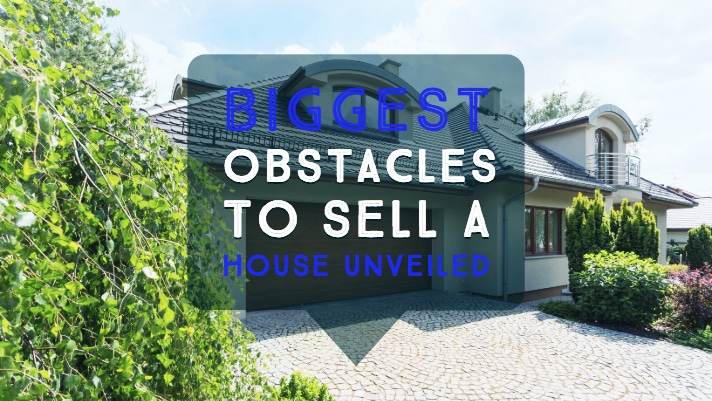 If you intend to move out before you sell your house, continue to read this article so you can understand one of the biggest obstacles to sell a house you could face. Every home will sell at the proper price, and if it's the incorrect price, then it will merely sit in the marketplace forever. Pricing an inherited house to sell is among the most significant decisions you'll make. During the selling process, you might face some of the following common obstacles:
Current mortgage on the property has a remaining balance
Profits from the sale are going to be utilized to pay off other debts
Current real estate market conditions are not the best
We can say that the biggest obstacles to selling a house are a poor decision when it comes to pricing your home. Selling your home can be scary. If you're planning to sell your house within the following year, it's essential to have an exit strategy. Selling a house is not an easy task, and it can also take a good deal of hard work. It is essential for you to research the current homes that are available in your market. Find out their value and the viability of their location, and try to come up with a competitive price based on the current market situation.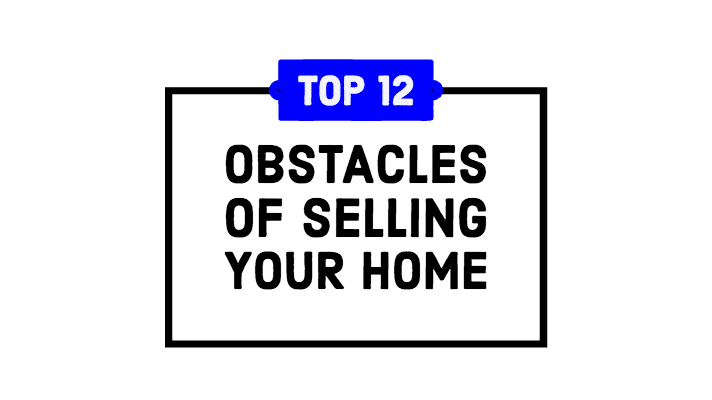 Top 12 Obstacles of Selling Your Home
Price it too high
Being emotionally attached
Open permits
Mortgage denial
Roof problems
Choosing the wrong agent
Home violations
Tenant Occupied
Selling on a buyer's market
Selecting the wrong offer
Low appraisal
Lousy photos
Price it too high
Overpricing is homes owners biggest obstacle to sell a house. Most home sellers do not understand the power of a bidding war. The purpose of the listing price should be to place your property with a pricing strategy when entering the market.
Experienced real estate agents who understand the local market can be an excellent asset for anyone when they want to sell their home. A potential buyer is going to make a smarter decision when it comes to home buying because technology is evolving very rapidly.
The challenges of selling a home on your own grow exponentially every day.
Using a real estate broker can help you avoid one of the biggest obstacles to selling real estate, which rely on the decision of sellers to price their home.
Price your home right from day one to avoid having your property lingered on the market.
Being emotionally attached
Both buyers and sellers tend to stay emotionally attached to their homes. Real estate markets change over time, and when the time to sell comes, you cannot allow emotions to get involved with the transaction. Emotions can become a brick wall that in some cases, is impossible to go thru or over.
If you are getting ready to sell and emotions get in the way, then you should consider getting the services of a local real estate agent. Selling real estate on your own can be risky and overwhelming. The home selling process can get complicated at times, and if your ad emotions to the transaction, the overall selling process can become chaos.
Selling with a real estate broker could be the best solution to being emotionally attached to a home.
Open permits
For vacant foreclosed properties, open permits are other common problems to overcome when selling real estate. To buy or sell properties with city permits can be a challenge. Most home buyers would prefer to purchase a home without any violations.
During the home buying process, a potential buyer would have home inspections done to the property. Energy efficient AC, excellent roof conditions, and upgraded curb appeal are some features that save money in the long run. Home buyers look for all of these features during the home buying process.
On the other hand, open permits will scare away home buyers. A real estate professional can handle some of these common obstacles when buying and selling real estate. You should always ask your local real estate agent to include a clause for the home sellers to close any open permits before you close the deal.
Mortgage denial
Another of the common obstacles to selling your home is that the buyers obtain mortgage approval. Here is where experienced local real estate agents can come in handy. Evaluating and choosing the correct offer will define if you are going to close the deal successfully.
A mortgage denial can happen for many reasons. If the home buyers are not working with a real estate professional, the odds of getting a mortgage approved are less than if the home buyers are working with someone with experience. Therefore when it comes to selling your home, make sure you choose the best qualified and highest offer.
Roof problems
Market conditions tend to determine the overall selling price of your home. There are different obstacles to selling a home; that is why it is imperative to get home inspections done before the property goes thru the process of entering the market.
Identifying major roof problems on an early stage of the home selling process can avoid for deals to be falling apart. Most lenders or banks do not approve home sales with roof problems on a property. Your ability to sell through financing programs reduces significantly.
Your home value will decrease if your home is having major roof problems. There are different ways to sell a house with significant issues. Your local real estate agent can find investors to purchase the home as is with cash offers avoiding financing clauses. Also, you can hire a local contractor that is willing to accept payment once the property sells.
Depending on your financial situation, you can get a personal loan or home equity loan to cover the repair expenses. Here is where a knowledgeable real estate professional can be a great source of information.
Choosing the wrong agent
Working with the wrong real estate professional can cause your home to lingered on the market. An agent that does not know the current market conditions can hurt home sales, especially when it comes to the listing price of their home.
An excellent way to know if your agent has knowledge and dedication is to visit his real estate blog. Your home value depends on the advice and information that your local real estate agent provides. He or she needs to be able to evaluate all the current homes on the market, as well a previously sold homes in your neighborhood.
Reviewing the homes on the market will be very helpful when it comes to making any home improvement. Over-improving your home can cause a significant capital loss in the selling process.
Small home improvement can help with the overall home value of your home. Sometimes it just takes minor tweaks to your curb appeal to give your property a significant advantage in the local market. Find the right agent that can overcome the biggest obstacles to selling your home.
Home violations
Violations on a home is another brick wall for homes owners. Many sellers forget code violations and forget to mention early in the selling process. Homeowners need to make improvements and do their due diligence to get their homes ready to sell.
Making sure a contractor fixes any code violations and meets with a city home inspector will reduce challenges of selling a home. Paying any fines is also a necessary step when getting ready to sell.
A home with no violations and with excellent market conditions will sell very fast. When the time to sell arrives, homeowners should work with real estate agents that can help them overcome any challenges.
Tenant Occupied
Buying and selling a home with tenants becomes challenging. A potential buyer is looking into a ready to move-in property that will fit all his conditions. When a property is tenant occupied, it can become more than just a brick wall for first time home buyers.
Cash buyers or investors will buy properties that are tenant occupied. Avoiding having the trouble of searching for qualified tenants, a home that is already leased can be an upside when selling to investors.
Selling on a buyer's market
Real estate markets vary during the homeowners lifetime. A bear market is the seller's worst nightmare when they need to sell their home. Keeping up with the latest real estate news is necessary when trying to sell a home in a declining market.
A homeowner should try to avoid selling on a buyer's market. Deciding how to price their home would become frustrating as they can end up losing thousands of dollars.
Selecting the wrong offer
According to the National Association of Realtors (NAR), most buyers and sellers use the services of a realtor during their home buying process. If you want to buy or sell a home, choosing the proper agent can help, especially when it comes to presenting or selecting the right offer to clients.
The difference between a falling apart deal and a ready to close the deal situation relies on selecting the right offer for in your local market.
Low appraisal
Mortgage lenders are required in most states to base their loan amount on the appraised amount. Bankers and lenders use this for as a risk protection strategy.
If an appraisal comes in low, it becomes a challenge to close the deal. Both buyers and sellers need to meet minds with the difference between the appraisal price and the previously agreed selling price.
Lousy photos
According to the NAR 2019 Profile of Home Buyers and Sellers, 44 percent of buyers started their home buying process online. The first home impression is essential to capture the buyer's attraction. Having professional photos to promote your home online is crucial nowadays.
Make sure to have your home ready for pictures day. Find an agent that is tech savvy and can promote your property online. When buying and selling professional photographs will continue to make the difference as technology evolves.
Things to consider before pricing your house
If you're determined to sell your home, then it's time to begin researching. Make sure you understand, and you go over with your listing agent all the expenses you can encounter during the process. Fees can add up when you sell your home.
For example, if you sell your home for $250,000, you may end up paying around $15,000 in commissions. Also, if you don't want your house to sit in the marketplace for too long, you want to make sure your property is in prime condition. Many old individuals buy homes so that they can devote the remainder of their lives in their homeland.
On the other hand, young men and women wish to put money into the lucrative property sector. So begin staging your house as soon as possible, and start showing it. An inexpensive house is only an affordable house if nobody wishes to reside in it.
Selling your house fast means more than likely you'll get your asking price. On the other hand, if you don't have a lot of showings, it will not sell as fast and sit on the market for a long time. So make sure your realtor has experience with the latest Internet marketing tools. Many other factors can affect your selling process, especially if you are home downsizing. Click here if you want to know more about home downsizing.
Additional small tips to optimize your selling price

Lots of people think their home is worth more than what the market stipulates. Overpricing is considered to be one of the biggest obstacles to sell a house nowadays. Unfortunately, most owners do not want to put to the effort to maximize their gains at closing.
A quick tip: "Always verify that the house is organized and cleaned before any showings."
If you intend to offer your residence or have been attempting to sell your home for some time now, here are a few simple "how to" tips to get some positive energy going. These tips can also work well if you intend on doing an open house:
If you're considering selling your home, it's likely there are a couple of things you may do to boost the appeal of your place and possibly raise its value. Also, if you wish to sell a house quickly, our accelerated marketing strategies allow it to be fast and straightforward. We will assume all the advertising expense at no cost for you. Furthermore, if you're ever concerned about why your house is in the marketplace for so long, ask one of our realtors for advice.
Selling a home is hard work. It can be an emotional time for many people. As a real estate agent, you get to experience it in full force. If the property is sitting on the market for months, the seller may have a hard time getting the home ready to show or making sure their schedule is clear.
Quote: "It is essential that you can devote all of your available time and energy to the sale. Also, have the property available for showings."
Open House Challenges of Selling
Attending your open house is also considered one of the biggest obstacles to sell a home. If you live in Florida, during an open house is a great time to plan a vacation to the upper west or upper east in New York City. More so if you are selling your home on the winter months.
Visit new york times square, wall street, and the statue of liberty. As long as you provide your realtor access to your home, you should be better off enjoying a lovely vacation in the winter months away from the Miami Heat.
Try not to attend your open house and let your real estate agent do all the work.
Realtors could make a difference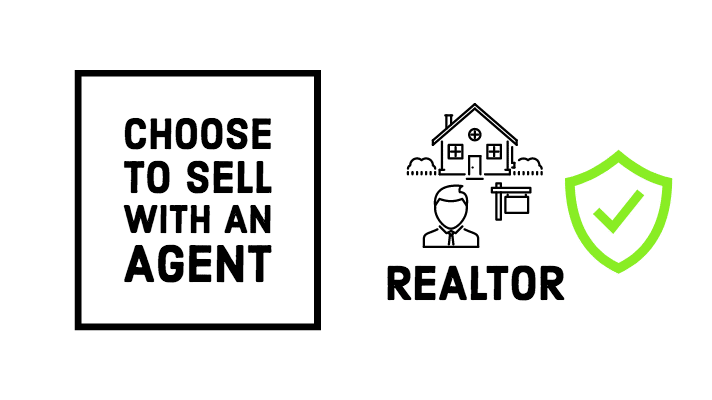 Selling a property on your own can be challenging. Every step in the process could mean a new learning experience. When you sell the home yourself, you don't need to pay realtors commission. But, whether you've lived in your house for a brief period or the majority of your life, selling it can be an emotional and hard matter at hand.
Pricing a home is among the most significant challenges, especially if you've got a client that's adamant on a specific asking price. Local realtors can be the critical element to maximize your selling price based on their ability to understand particular markets. A real estate agent can help you nail the price tag.
Realtors can also help with small tips like: "Having your home inspected before listing it's if you wish to prevent costly surprises once the residence is under contract." Also, they can guide you to make sure your home appears to be a model home to acquire the best outcomes possible.
Final Thoughts
Not cleaning your house before a showing is another biggest obstacles to sell a home. The decision alone to offer your property takes quite a bit of careful thought and consideration.
After understanding the financial implications and determining that selling the house is the proper strategy, then you are going to want to prepare the house for sale. You might find success in selling your home via social networking sites.
My recommendation is to get some professional help to save time and save money. Learn more about the top home seller's mistakes or the latest real estate news in our real estate blog. I hope you enjoyed our post about the most common obstacles to selling a home.
Related Posts