Pros And Cons Of Modular Homes | 18 Key Points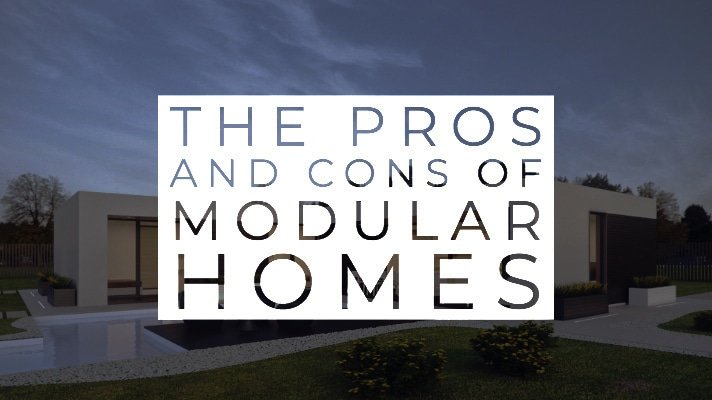 Advantages and Disadvantages of Modular Buildings
Modern modular homes have been evolving in the last few years to the point that they can compete with traditional stick built homes in many ways. Quality levels and adherence to local building codes have increased. These homes are traditionally built in a factory setting where the weather is not a factor, raw materials are assembled on site, and skilled tradespeople follow quality standards that are monitored and maintained. In this article, you can find a complete review of the pros and cons of modular homes.
They are transported to the homeowner's site and placed on a foundation that has been prepared to meet the specifications of the home. Site delays due to weather, quality standards as mentioned and fewer delays generally contribute to a 15% savings for the homeowner on average. That can be a significant amount that stays on your savings account over time.
The homeowner must act as their general contractor or hire someone to do the job. Building the foundation, arranging for services and utilities to be installed as well as landscaping, etc. are managed by the general contractor. They also must meet local zoning bylaws. You can do minimal customization due to the factory homes construction style and assembly process.
Modular buildings represent an excellent opportunity for home buyers to purchase their own home while reducing overall costs and generating a good investment for resale of a well-maintained home in a good location.

1. What is a modular home?
A modular home tends to be fabricated in a factory in an assembly line format. Each section is built separately before being shipped to the site for final assembly. Schedules are usually adhered to because they do not have to deal with the effects of weather. It might be raining or snowing outside, but the folks in the factory continue working. They are also called "prefab home" short for prefabricated homes.
Quality control is easier to manage as well. Once they complete the module, it is covered for protection while being shipped and waiting onsite to be assembled on site. The modules are placed on the foundation that has been already constructed as per the design.
2. Modular house vs. Mobile homes
The main difference between them is that a modular home is built onsite to be placed on a foundation. While a mobile home will fit on a steel trailer with wheels attached. The mobile home can be moved or towed to any location. It is not placed on a permanent foundation.
Prefabricated homes are also traditionally built to meet or exceed local building codes where it will be assembled. While a mobile home is built to meet the HUD code specified by the Department of Housing and Urban Development. Mobile homes are also called manufactured homes or manufactured housing.
3. Is it cheaper to build your home or buy a modern modular home?
Are modern modular homes cheaper? Many factors affect how you determine the price of a home. However, modular buildings do have some advantages that stick built homes do not. For example, they are sitebuilt homes in a factory setting under controlled conditions. There are fewer delays due to weather, availability of trades and late delivery of materials.
Cost of modular homes vs. building a stick based home can be as much as 15% less expensive. Note it depends on the cost of materials and home designs. Potential buyers still need a property location to construct the home's foundation. They also need to provide services such as water, sewage, electricity, and other utilities.
4. Where can I find modular homes reviews?
Building any home is a complex process. Finding the land and ensuring that it is properly zoned to allow prefabricated houses to be built is one area that consumers must contend with. Installation of the utilities and construction of the foundation to proper specifications is another. Finally adding the modular components built onsite to the foundation is another significant activity.
Each area represents different homes construction activity and crews. Hire a general contractor to manage all of the events for you. Look for reviews on each area, including the latest modular building systems.
You can find modular homes reviews on google and youtube. For example, here is a great video review from "The Verge" about the future of modular buildings:
5. What is the best modern modular home to buy?
Every reader will have their priorities in determining the best modern modular home to purchase. For example, many will be focused on price while others may want more services and features. Then there is the coordination and construction or assembly of your prefab home built onsite.
Do you need to hire a local contractor to provide utility services and foundation? How well does the prefab home supplier interface with your contractor and what level of support do they offer? Begin by assembling a list of modular buildings suppliers in your area. Take the time to understand their service and your obligations with regards to site preparation etc. You may need to act as the general contractor to coordinate all of the utility services, the excavation of the foundation, pouring of concrete for the foundation, etc. Make your decision based on the level of services they provide, quality, price and how involved you need to be in the process.
6. Modular Buildings vs. manufacture homes
Pros and cons of Modular homes
Less expensive than stick homes
Finding suitable land
Servicing your lot
Foundation construction
Prepare to pay for extras – foundation, landscaping, driveway, steps, utility hookups, etc.
Financing of the house as well as homes construction activities
Transportation
Resell is more challenging than a traditional home
Takes less time to build
Pros and Cons of manufactured homes
Manufactured homes are considered mobile homes
You can move them from one location to another
Local laws may restrict movement
Utility services are required
Foundations are not needed
7. Modular house vs. stick built
Usually, they assemble modular buildings in a factory-like setting under controlled conditions. Stick built homes are built onsite where builders have to deal with weather conditions that may delay completion. Assembly line conditions usually mean less waste than stick built homes. They are considered to be more green than stick built houses.
Stick homes have hidden costs such as less energy efficiency, site theft of materials and tools, etc. These are costs that the home buyer never sees. A prefab home that is traditionally built in a factory generally is more efficient in these areas.
Schedules are more accessible to maintain with modular homes. The factory is like an assembly line and tradespeople are permanently employed. Tradespeople for stick homes tend to move from one job to another causing delay and sometimes quality issues.

8. Are modular homes a good investment?
Buying a used prefabricated home is no different than any other house. Check out comparable units. Evaluate the location. Location matters a great deal and will impact the value of the property. If your planning to purchase a new modular home, remember that many consumers perceive these homes as being less desirable.
As with all real estate investments, location, quality, well maintained, landscaped, repairs kept up to date and no clutter can make a huge difference in selling your home at a price you feel is reasonable. Modular buildings can appreciate in value over time. Homes that are not well maintained or in poor locations could decrease in value. They are no different than a stick built homes in this regard.
9. Top 10 common modular home problems
Here are the top 10 problems with modular homes:
Finding land with the proper zoning allowing prefabricated houses
Site preparation and foundation construction to specifications
Add to the price of a prefab home the cost for utilities, foundation, landscaping, etc.
Finding financing can sometimes be more difficult
You can only detect errors after delivery
Limited customization with prefabricated homes
It is difficult to make changes once fabrication has started
Evaluate transportation costs from the factory to the site
Assess potential transportation damage to the prefab components
Public perception is that modular buildings are less desirable and lower quality
10. Top 10 benefits of modular homes
Here are the top 10 benefits of modular homes from a consumer point of view:
Modular homes are built in a factory setting away from weather impacts
Quality control is easier and material, or labor shortages are not an issue
Resale value depends on location, curb appeal just like stick homes
Homes construction of modular buildings are high quality
Windows and insulation are energy efficient to conserve energy
The speed of development can be quick once they install foundations and utility services
They are typically 15% less expensive compared to stick built homes
As a result, affordability is better with a prefabricated house
Manufacturers sometimes offer home finance or construction loans
Resale value of a modular home is typically better than a mobile home
11. How long do modular buildings last?
Since modular homes are typically built using the same materials as traditional stick-built homes, it stands to reason that they will last as long as these homes. You always need to maintain every household to keep its market value. During the home buying process, you are going to notice that most types of homes will need new doors and windows. Buying prefabricated houses can save you money in the long run.
A home will deteriorate relatively quickly if you don't apply proper maintenance. Prefabricated houses are no different in this case.
Modular buildings offer various levels of quality in terms of construction materials and design. Consumers can investigate builders by assessing reviews, service levels and comments by many customers who have the first-hand experience with modular homes. It is no different than a stick-built home.
12. Are modular homes worth it?
On average consumers should save as much as 15% compared to a traditional stick built home. Also, once the foundation and utilities are in place, the prefab home can be traditionally built in much less time than a conventional stick built home. There are various financing options available, and some manufacturers will also offer a variety of financial services.
Modular buildings tend to appreciate in value according to the local market. Markets will go up and down depending on local conditions. Modern modular homes will follow this trend. Acting as a general contractor and building your own home provides a great sense of accomplishment. Buying high-quality modern modular building at market prices is a definite option for many consumers.
13. Top 10 disadvantages of modular homes
Here are the top ten disadvantages of modular homes from a consumer point of view:
Consumers need to purchase land with appropriate zoning approved
Installation for utilities along with a foundation needs to meet specifications
Requires a construction loan for the purchase of the land
Full payment of the modular home is due before delivery
Once installed the utilities need to be hooked up to your home
Landscaping, driveway installation, etc. must be coordinated by the consumer
Consumers may need to act like they are a general contractor
Modular buildings are perceived by consumers to be less valuable than a traditional home
If you want a customized home, prefabricated homes are limited in design options
Some cities and counties have zoning limitations
14. What are the modular home resale value statistics?
Real estate agents will tell all consumers planning to sell a home that they need to prepare the house for sale. Location is always essential in home sales. If you are planning to build a prefab home, select your location based on maximizing the resale value. Curb appeal is one of the next most important elements. A well-maintained home, fresh paint, trimmed shrubs, and lawn, etc. create a positive impression for a potential buyer. De-clutter the house and make sure you complete all minor repairs.
These suggestions are the same for existing homes as well as modular buildings. When home buying the perception is that modular home sells for less, the actual sale price depends on location, preparation, and marketing of the house into the current market conditions.
15. What is the risk involved in buying a modular home?
Modular buildings are typically well designed with high-quality standards. They must meet federal and state building codes. The dangers of a prefab home, like any situation, are in the details.
It is up to the consumer to ensure that the house complies with the local building codes. A few areas that may be concerning to consumers are as follows:
Finding suitable land with appropriate zoning
Arranging construction financing covering the land, installation of utilities and the home
Verification that the home will meet local building codes which includes local wind conditions
Ensure the house is bolted to the foundation and sections are securely fastened to each other
Perception of value may be less due to local preconceived notions about modular buildings
Resale may be more difficult for modular homes. Location, curb appeal, etc. matters.
16. Can modular homes withstand hurricane winds?
Hurricanes usually cause massive damage every year due to flooding and high winds. Hurricane Katrina caused over $125 billion in losses. More than one million homes were destroyed. Winds tear off siding and roofs, while storm surges add to the damage.
Modular homes are built to meet strict building codes in the area the home is completed. They adhere to high-quality standards and are inspected at various stages. They are also made to withstand transport to the eventual site the house will be assembled.
Can modular buildings withstand a direct hit from a hurricane?
Probably not.
Can they stand up better than stick built homes?
In many situations, the answer is yes due to the homes construction techniques and quality standards that are followed during the building process.
17. Are pre-manufacture homes a good investment?
The answer is yes, just like a stick built homes. Manufactured homes typically will cost 15% less than traditional houses which provides a significant advantage. Consumers who choose their location carefully can not only maintain their value, and they can expect their home to also appreciate in value.
Real estate value can vary based on local market conditions, curb appeal, maintenance of the home as well as size and features. Well-Maintained manufactured housing in a great location that has great curb appeal will often perform much better than a similar home that has no maintenance.
18. What type of financing options are available?
You can get a personal property loan, or chattel loan is a type of financing that includes only housing. The chattel loans or also called "home only loans" exclude the land from the amount financed. Mortgage rates tend to be higher for these types of loans, but they are known to be approved quickly and have lower fees for closing costs. Home only loans are generally used by mobile home owners who do not want to include the land in the loan amount, and for houses with low home prices. Some mortgage lenders offer chattel loan programs with a down payment as little as 5% and up to 20 years of terms.
You can also finance prefabricated homes with real property loans or mortgages, same as sitebuilt homes. These are loans for homes with land included in the financed amount. Talk to your local lender to see the best mortgage rates or refinance rates that are available according to your current credit score situation. Finally, you can also purchase prefab homes with construction loans.
Final Thought
Unlike mobile, modular buildings have made great strides in the last few years. They provide prospective homeowners with another opportunity to meet their objectives of owning a home. There are advantages such as lower overall average cost, adherence to high quality and building standards and long term value. The time to construct the house can also be shorter, and depending on the manufacturer there can be more financing options available if you are building a new modular home.
But they are not free of challenges. In new construction situations, homeowners need to find their lot and arranged to have it serviced with utilities. Some locations have zoning restrictions that prevent prefab homes from being site built. Choose your location wisely with resale value in mind. Some potential buyers still feel that prefabricated houses are lower quality and less attractive as a result. Manufacturers have come a long way in the past few years, improving quality and building processes.
One of the cons of buying modular buildings is that it is not easy to customize or make changes once the build has started. In many cases, these homes are built to a higher standard than the traditional home. You can find more information about financing in this related article. Also, visit our resources links for the latest building systems, and modular home dealer, or home builder available in the market.
Additional Resource Links
Home of the Future by www.theverge.com
Casita 850 by www.mamodular.com
Urban Terrace by www.evobuildingsystems.com