Calculate Home Value Guide | Value of Your House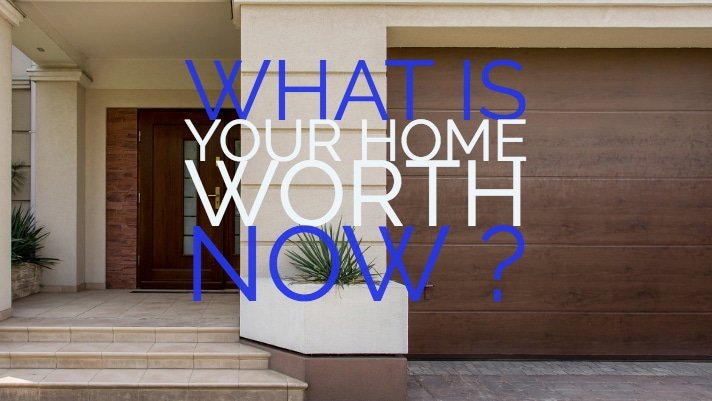 How Much Is Your Home Worth?
One of the first things that consumers want to know when they are contemplating selling their home is how much their house is worth. For a first time home seller, this is an important question to address for several reasons. Every home seller wishes to attract the highest price they can for their home. With this complete guide, you will understand the steps to calculate home value.
Home sellers also need to plan how much capital gains they will have to make the next home purchase. With the homes equity or capital gains, they can increase their down payment. Hence, they can buy a larger house perhaps or arrange for lower monthly payment, and also leaving funds available to spend on home improvements for the new house.
Knowing how much they can expect to obtain when the homes sales are completed is going to help them focus on new price ranges for the new house. Home buying in different neighborhoods might be an option, and they can prepare for house hunting as soon as their home is ready to sell. Using a mobile app for home buying has become very popular nowadays.
Tip: Try to use the saved searches options from different real estate mobile apps on the market.
How to start determining your homes value?
Most home sellers start by looking at other homes in the neighborhood that have sold recently or are up for sale. Sometimes it is difficult to determine home values as well as time-consuming. If you are in the early planning stages, you really should consider getting an estimate of your homes value to know what to expect for your homes worth or selling price. Also, use any of the online loan calculators available to start learning about different homes refinance options.
Where Can I Get a Home Value Estimate?
Our home value estimator page the perfect online tool to help homeowners get a professional online valuation. Just enter the address of your home, your name, your email so the agent can send you the results.
Within minutes you will have one of our agents contacting you to begin planning your next steps. You can expect to receive information about comparable properties including low, a mid-range estimate and a high range for your home. As well as rental value to expect if you decide to rent your house out, and a historical record of homes that have recently sold in your area.
Go to our valuation tool to obtain an estimate of the value of your home in today's market. Determining your home's value is more complicated than people think. Many different elements can affect your home market value. The best ways to check your home value or to get as close as possible to how much your house is worth is to start by utilizing free online valuation tools. There are some other tools that you should check out like Zillow's Zestimate and redfin estimate as well.
What Is The Difference Between Assessed Value and Fair Market Value?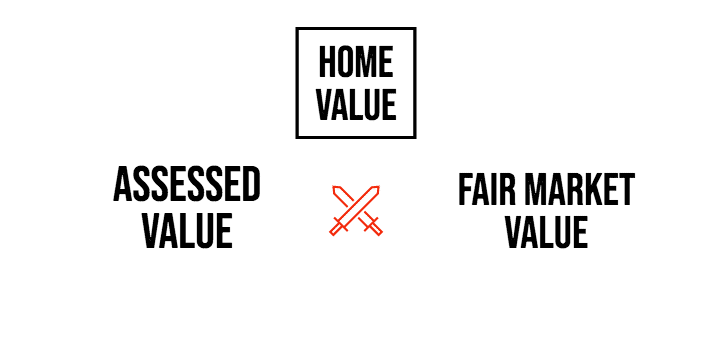 The assessed value is what the city, county or state thinks your home is worth to calculate property tax. Every county has slightly different rules regarding when they complete an assessment, various exemptions and Mill rates that are applied. The assessed value and the fair market value of a home are usually in most cases different amounts. Various exemptions may also be applied. You can find more info about the tax assessments of your property in your current public record or on your local county recorder's office.
The fair market value of a house is based on what the house is considered to be worth on the market and would likely sell for. The instant home value estimator is an excellent place to start. However, your local real estate agent will conduct a thorough comparative market assessment to determine what he or she believes the house can sell for.
Maintaining your house will will allow you to have a higher fair market value and will sell for a higher price on the market. Your agent may also make suggestions regarding cosmetic improvements and minor repairs that will make your home more attractive to buyers in your local market. Homes with excellent curb appeal that are not cluttered, well maintain and up to date always do well.
Should I Hire a Professional Appraiser?
Typically, an appraiser is engaged by the lender to appraise the home to ensure that the appraised value is the same or close to the purchase price. The results obtained when hiring an appraiser will serve as a support to the mortgage amount that is being applied for. Appraisers charge a fee for their services. Most of them often will turn to local real estate agents to obtain recent sales data to support their appraisal.
Both buyers and lenders often will not trust the sellers paid appraisal. They prefer to use their own trusted appraiser to assess the value of a home.
The vast majority of sellers will arrange for a comparative market analysis to be completed by their local real estate agent. Every agent offers a CMA as part of the services, and they are a handy way to estimate your homes value. Remember that appraising is an opinion of value.
What Does an Appraiser Look For?
The appraiser will look at many of the same things that a real estate professional would review. These can include the following:
Home exterior – foundation, walls, roof
Property size – square footage of the home, number of rooms, size of the property
Interior condition – doors, flooring, electrical, plumbing, kitchen, lighting, and bathrooms
Improvements to the home – renovations to bathrooms and kitchens, appliances, heating and AC systems, etc
Any extras – such as swimming pool, hot tub, landscaping, upgraded windows, property tax information, etc
Once they have reviewed all of this data, they will look at comparable sales from the past six months to find similar homes. Appraisers usually will make adjustments based on what they perceived as mentioned earlier.
They do not consider current market conditions such as a seller's market situation or a buyer's market situation. Most appraisers are not trying to predict what your house would sell for or the final house price. They are assessing to the best of their ability what the home is worth. Buyers may be prepared to pay more for property for many reasons, including facilitating a move from another location to the right area for them.
Regardless of how much they paid for the home, lenders will base their mortgage approval calculations on the appraised value and not the purchase value.
Should I get a Comparative Market Analysis From a Realtor?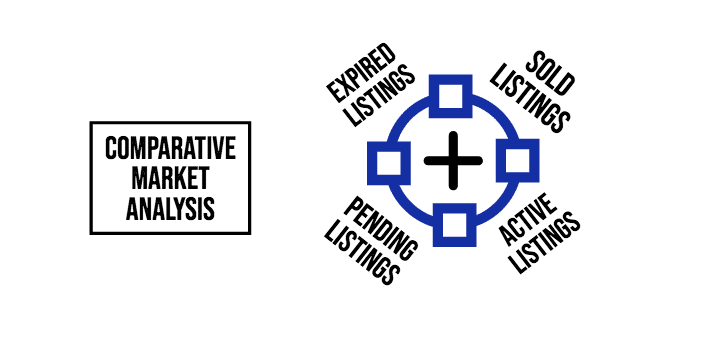 A Comparative Market Analysis or CMA is a little different than what an appraiser might provide. A CMA establishes a market price for your home based on the current market condition, competition from other houses, features and size of your home, the shape of your home and whether it is a buyers or seller's market.
A local real estate agent is always on the loop with regards to the current market conditions and will guide the seller in deciding the sales strategy for the home once they have arrived at a price. Your homes listing price is the most crucial part of selling a house. Also, use estimated market values from different sources to come up with the best selling price possible, analyzing all the recent sales utilizing the best platforms that provide the latest estimated market values.
Before pricing your home consider the following:
If you price it too high, few buyers may look at it.
Priced too low and you may lose money.
The goal should be the right price in a seller's market.
If you price your home at the right price, you might find yourself in the middle of a bidding war!
A realtor in the business can help sellers with all of these considerations. They can help you sell your home quickly at a price that is very competitive. Your realtor will also make suggestions regarding which improvements will enhance the value of your home.
What are Broker Price Opinions (BPO's)?
A broker price opinion is an in-depth report that helps determine the selling price of a property. A licensed real estate professional usually generates the report, and it includes photos of the comparable home as well as a complete neighboorhood analysis of comparable properties. Broker prices opinions tend to be more thorough than a basic CMA, and are usually required by some mortgage lenders depending if it is allowed in the current state.
What is Home Equity?
You can define home equity as the difference between the loan principal you owe and your house's current market value. Home equity goes up every time the value of your home raises and as you pay down the loan principal. For instance, if you buy a house for $300,000 and you've paid $40,000 over the past few years against the loan principal, and the market value of your house is now $350,000, at this point, you have equity in the home of $90,000.
Utilize our online home value calculator to confirm how much equity you have accumulated on your house. Once you know the amount of equity you have on your property, you can either get a home equity line of credit HELOC or explore some homes refinance options.
What Are The Financial Options For Home Equities?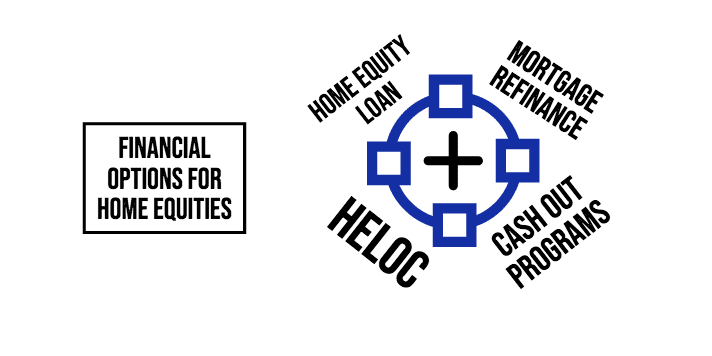 Once you know how to estimate your homes value, then you can calculate how much home equity you have on your property. If you don't have any equity in your house, your home loan options will be limited. On the other hand, there are many options when you do have home equity accumulated on your property, and this will include different types of home equity loans and refinance loans like the following:
Home Equity Loan
A home equity loan is one huge sum loan attached to the equity in your house. By obtaining a home equity loan, you can receive a one-time large sum of money which you are going to be paying with monthly installments or with a consistent monthly payment. Talk to your financial advisor and discuss the different home equity rates available for these types of home equity loans. Also, ask about the closing cost and if you're getting fixed rates as well. Your can use home equity loans to consolidate debt like credit card balances or student loans.
Home Equity Lines of Credit HELOC
A home equity line of credit is similar to how a credit card works. You can use the HELOC to withdraw different amounts of money based on the availability of your credit line or limit. The HELOC credit limit is based on home equity, and the property guarantees it. The home equity rates for equity lines of credit are usually adjustable-rates and not fixed rates, and the terms vary between 5 to 10 years depending on the financial institution or mortgage lender. Most people utilize equity lines of credit instead of a balance transfer from a credit card due to the enormous difference in interest rates.
Feel free to visit and try chase bank online home equity line of credit calculator to see if you can qualify, and also review their current mortgage rates and other mortgage calculators. Chase Mortgage Group offers a great variety of loan products and also offer other retirement accounts like Roth IRAs.
Mortgage Refinance
The Federal Housing Administration offers several FHA loans, or FHA refinance loan products, depending on your current financial situation, you might be able to lower your interest rates or reduce your overall mortgage payment. The U.S. Department of Veterans Affairs also offers VA loans for refinancing purposes, and they have more flexible qualification guidelines than FHA loans. There are many conventional refinance loan programs such as 30-year fixed rates with long term monthly payment stability, ARMs and a 15-year fixed rate for short-term home buyers, and Jumbo loans for clients seeking for high-value properties. Your financial advisor can provide a list of all the loan programs you qualify for, and he can guide you can get the best refinance rates on the market.
If you cannot afford to cover more than 20 percent of the purchase price, you could end up paying mortgage insurance. When you refinance your home, the mortgage rates are fixed rates, and the traditional terms can vary between 15 to 30 years just like FHA loans, VA loans or conventional loans. Some mortgage lenders may require that you have the total amount that will be used for the closing cost deposited in your checking accounts or savings accounts 30 days before the closing date.
Cash out Refinance
Cash out refinancing is a type of refinance that focuses on allowing the owner of the property to take a loan amount based on a percentage of the homes value, where the new mortgage greatly exceeds the amount of the current mortgage. People utilize cash out refinance because the refinance rates are much lower than regular credit card rates. You can use the cash out refinance as a financial instrument to make home improvements, pay down credit card debt or student loans. I always suggest my clients to use the cash for home improvements; that way you can raise the homes value. Most cash out loan programs have restrictions depending on the state.
What Adds Value To Your Home?
Homeowners always wonder what home improvements they should consider for their homes. Sometimes home improvements could maximize the listing price and the eventual sale price. Most realtors will advise homeowners to avoid major expenditures unless it is indispensable and it has to do with something that needs urgent repair, e.g., a leaking roof.
They will advise sellers to consider the following as a means to maximize their home's selling price and to help their home sell quickly.
Ensure that your home is spotless
De-clutter and remove all personal items such as family pictures etc.
Shampoo the carpets
Repair nail holes in the walls and apply a fresh coat of neutral paint
Complete all minor repairs such as leaky taps, loose faucets, etc.
Replace cracked tiles
Replace lights that may not be working
Outside yards should be neat and well maintained.
Ensure that your homes curb appeal is attractive
Attempt to make your home as move-in ready as possible
Sometimes homeowners become a little defensive when realtors make suggestions. After all, they may have lived in the home for many years and are very proud of it. Remember that they are professionals and have a great understanding of what a first time homebuyer is looking for. They want you to be able to sell your home quickly. Their job is to help you and guide you through the process of selling your home.
Summary
Home estimates from online tools are a great way to start if you want to calculate your homes value. In Chase Bank official website you can find a refinance calculator or a mortgage calculator mobile app that can help you estimate how much can you borrow based on the value of your home. If your final goal is selling your home at the highest price possible, then you can utilize our home valuation tool or contact us directly so we can provide you with a professional comparative market analysis. You should consider all your financial options to make home improvements; that way you can increase your house price and satisfy the pickiest home buyers taste.
If your objective is to renovate and flip houses, you can use the home valuation tool to calculate the home equity for potential properties to invest in. Now that you know the different financial options, you can increase your investor relations by reaching out to some mortgage lenders in your area.
Feel free to try different online home value tools like Zillow's Zestimate, redfin estimate, and also try the loan calculators from Chase Bank. The more information about your house price you can get the better. Also, if you take out a home equity loan or a HELOC, use the cash to make some home improvements to increase your homes value.
Finally, If you want to check your home value start by utilizing an online tool, for more information about how to price your home correctly, please visit this related article.