Best Strategy To Price Your Home | Nail The Price Tag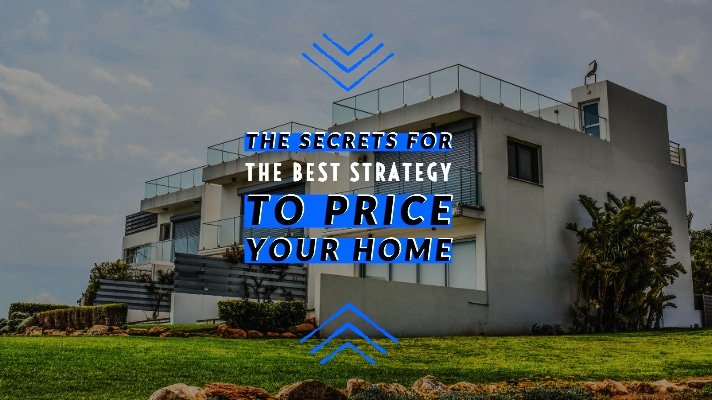 Secrets To Price Your Home
By knowing the market value of your property, you will manage to pull more potential home buyers and get a fantastic deal for it. If you understand the current market situation you are in, then you should be able to prepare your house to maximize the selling price. Think of everything you need to do, not only the cost of the repairs you are going to make. When the time arrives, and the lender approves the purchase your gains will cover all your expenses. Keep reading to discover more secrets for the best strategy to price your home.
Understanding your local market is the key. If your house is priced too low, then your going to leave money on the table. On the other hand, when you overprice your home then most likely you are going to have multiple price reductions. It is crucial to work with a real estate professional that understands the market and will know if your home is priced correctly or not. The end goal should be to create a bidding war between home buyers. By hiring an agent, you can end up saving money.
What is The Best Strategy to Price Your Home?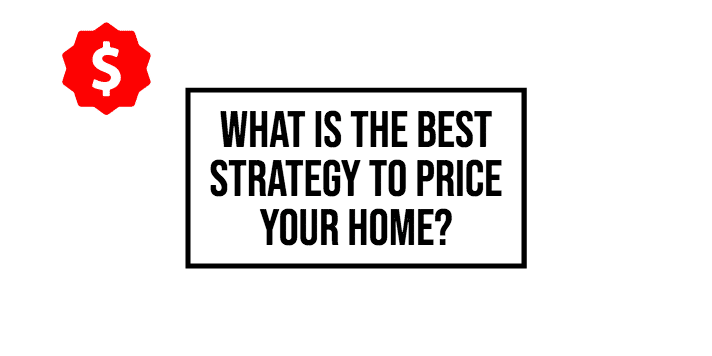 The overall best strategy to price your home is going to depend on the current market situation. Experienced realtors will utilize different homes price ranges to pull in more potential clients. If you want to generate plenty of traffic flow to your home, then you need to learn the ins and outs of your local market. Evaluate every possible scenario to understand how to adapt based on possible outcomes. When you begin showing your house, you will need to consider how to proceed throughout some of the worst-case scenarios. By pricing the home correctly, you will create a positive momentum towards the negotiation.
Money is always at stake, and bidding activity often picks up when you have good traffic of potential clients. Make sure to follow your realtor's tips to keep more cash in your pocket. Furthermore, if you want to sell your house quickly, read our ultimate guide to sell your home. It explains how to minimize uncertainty and goes through different stages to help you sell your house at a faster pace. On the other hand, to save some extra cash, selling by owner might be a choice you should evaluate. My suggestion will always be to work with a professional agent that has experience with real estate transactions.
Offering seller financing could be a possibility that can attract a bigger pool of potential buyers. Seller financing can be very risky, make sure you talk to a professional realtor so he can explain any possible liabilities. Before listing your home, put together the collection of articles that you wish to show. By staging your home, you will increase the possibility to receive higher offers from home buyers. Staging your home will create a better home appeal and impression when clients see your house for the first time.
The first step is to get a home evaluation
The first step to a successful home sales experience is to discover how much your home is worth. Fortunately, with all the current technological advantages, there are many free methods that you can use to calculate the best selling price for your home.
Knowing how much your property is worth or "house worth" can help you plan effectively for the future and choose if it is the right time to sell your home. Evaluating your home is an excellent start, especially for those looking to maximize their selling price. Also, you want to get a full comparative market analysis or CMA of your home before you put it up for sale.
If you are thinking of selling, then try our free home evaluation tool that will help you get a rough estimate of your home in the current market. There is no doubt that a free home evaluation is a perfect tool to begin your sales journey and it will bring you closer to nailing the price tag.
The key to getting an accurate sales price is to work with a local real estate agent who understands your current market situation. Automated home value tools are excellent to use as a general reference, but we do not recommend for you to base your selling price on tools that do not take into account all market factors.
Zillow's Zestimate Myth
"The number one reason homes are not sold is due to an unrealistic sale price."
Can you rely on the famous Zestimate?
Many people wonder if the data provided in the Zillow home evaluation is accurate. The truth about Zillow is that they are a real estate marketing company whose business is to provide a service to real estate agents. They are not brokers or a group of real estate agents. The data used by Zillow for the estimates of their homes are too broad and, sometimes, their algorithm has to rely on several data sources to perform a calculation.
Note that Zillow's artificial intelligence analyzes numbers from different data sources. They are not taking into consideration the interior aspect of a property, the type of materials used for updates or other elements that only a human can perceive.
The Zillow Estimate Trap
You might be thinking that your house is worth or "house worth" more because Zillow says, the truth is that you want to evaluate different opinions when it comes to the market value of your house. If your home is sitting in the market for a long time, then you probably have not taken into account all aspects of your current market conditions. You might have to reduce the listing price depending on the days on market, or if it is not priced correctly. Once again, Zillow can present a rough estimate of your home based on the data, and you should treat your Zestimate as a general idea, not as a final sale price.
Do not get trapped with a fixed value given by a free online market tool as your final sale price. The idea is to use these tools as a reference, and always have a negotiating mentality when selling your home.
Evaluate past home sales in your area
Once you get an evaluation of your home and you have an idea of how much is your homes value, now is the time to start digging deeper and start analyzing your current market. Most of the time it is better to work with a local real estate agent who can provide you with a CMA that calculates a high-quality estimate based on comparable houses for sale currently in the sector, along with previously sold homes that are also similar to your specific property.
The comparative market analysis or CMA generally comes with all comparable homes sold, pending, active and expired within a radius of your specific location. If you are not working with a real estate agent that is OK, you can get sales of recent properties on your county website or at your county office.
Know the competitor's in your niche
Now that you have the comparables, you can say that you are getting closer and closer to nailing the price tag. Go over all the comparable sales and recently sold homes in your local market.
Also, look for all the active listings and calculate the average square footage. You can do so by dividing the listing price by the square feet of the subject property. Once you have the average square feet price in your area multiply it by the total square footage of your home so you can have a broad idea for your price strategy.
You understand the numbers, and you have an idea of how much is the market value of your house. So it's time to analyze the competition in your current market.
Why should I analyze my competitor's?
When home buyers look for houses to buy, usually, their real estate agent will show them some homes according to their needs. If the buyer is extremely demanding, sometimes the real estate agent has to show them more than a few houses. The fact is that if your competition has listed your home at the same price as your home, and if significant home improvements have been made in their home, then it is likely that when a buyer sees both options, they may be inclined to buy the competitor's house and not yours.
Do not hesitate to get estimates for the entire neighborhood to educate yourself, but also go through their pictures and get a fell of the overall condition of their houses. You can utilize this strategy to know if it might be worth reducing the price of your home, or making some minor upgrades. Analyzing your neighboorhood will also provide you with sufficient information to avoid over-improving your home.
Also, professional listing agents are going to be able to come up with the best marketing plan based on the competition and the current market situation in your area.
Sellers Markets vs. Buyers Markets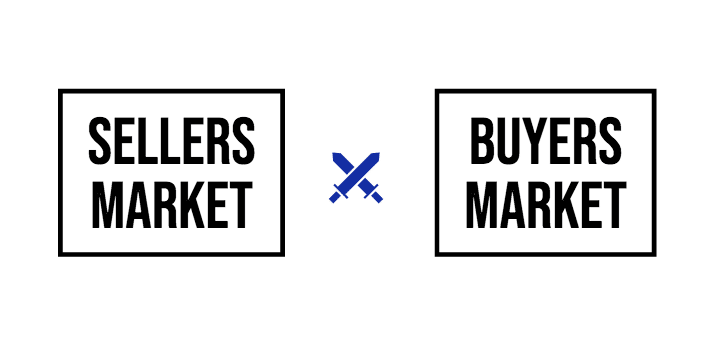 The current market status can lead to nailing the price of your home. Sellers markets are the markets with high demand for properties, and you can tell by the inventory levels (low inventory). Whenever markets are hot, usually potential buyers are desperate to purchase a home. Therefore your objective should be to try list your home in sellers markets where there are fewer homes to sell. Hence, less competition.
On the other hand, a buyers market is when the inventory levels are high, which means that many people who want to sell home. Selling on a buyers market will lead to listing your home a the lowest price possible to compete with all the houses in your area. Flipping companies and real estate investors will come and purchase homes with low ball offers. Most investors are when the market cuts the price to go in purchase assets for pennies on the dollar. Unless you have to sell your house immediately, try to avoid selling on a buyers market.
Use "search query strategy" to price your home
Another important fact that most home sellers and agents ignore is that everyone who searches for houses generally has a budget in mind. Deciding on a homes price is the most critical step in home buying and selling real estate. But also know that when someone is looking for a home today, the most common way is to search online through different search queries.
"The typical 99 search query strategy."
After a buyer has been pre-approved for a $300k loan, the typical way to proceed is to start looking for homes. Whenever home buyers with that particular purchasing power initiate the search, their standard search query should be single-family homes under $300k in a specific location. For example, if you list your home at $305K, then there is a possibility that when someone makes that particular search query, your house does not appear. Now, this is when "99 search query strategy" comes into play if you price your home at $299k, it's likely that most of the time it appears in that particular search query.
So always remember to put yourself in the buyer's position when it comes to selling your home. Consider working with an agent who can present some essential information about the expectations of home buyers in your area. Also, keep in mind that most local real estate searches are done online, so position yourself on the correct search query to maximize your home's exposure.
Does real estate marketing affect the selling price?
Real estate marketing does not directly affect the selling price of your home. On the contrary, the selling price will affect the amount of marketing that a real estate agent will perform on your particular property.
Now if you decide to request an insane homes price for your home based on the fact that there are fewer homes very similar to yours in the market, then the possibilities to work with an agent who is willing to use their time and resources to promote your property are very slim.
If you want to position yourself ahead of the properties that surround you, then make sure to evaluate all the conditions of your property. Whenever you start noticing that your house has been in the market for a long time, you will not only have to rethink the sale price, but you will also have to offer special incentives for closing costs.
Offer incentives towards closing costs
Sometimes you can end up being in a position where you have to sell your house in a declining market, or your particular neighborhood is full of competitors. You should consider offering a seller's contribution to the closing cost. The seller's contributions are generally allowed by most lenders, provided that the details are fully disclosed within the sales agreement and the general contribution does not exceed the acceptable limit for that particular loan program. Some times rising mortgage rates can lead to a market price drop.
Work with an experienced real estate agent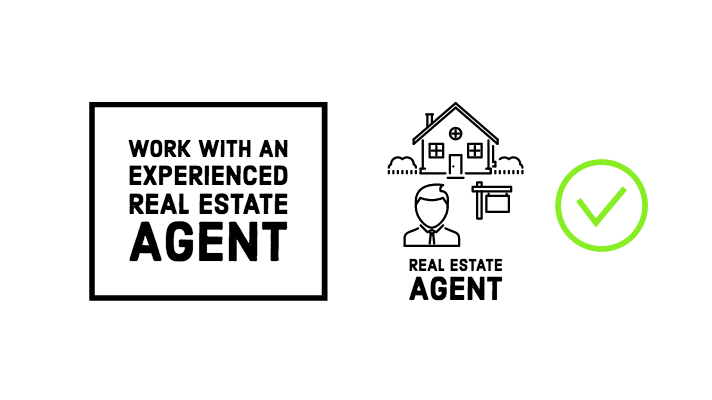 It can be challenging to try to sell your house at its maximum price in any housing market on your own. To get closer to the real value of your home, you need to connect with a local real estate agent near you. You can understand the market value of your home much faster when working with a professional.
An agent can help you determine the value of your home more accurately in your specific area. He can also provide you with a complete market analysis with comparable properties that will include a list of properties sold, active listings, pending sales and expired listings as well. Avoid working with multiple lenders to limit the number of people that you provide your information to like your social security and savings account. After you interview a few lenders pick one and also avoid providing any credit card information if possible. Some lenders require your credit card information to pay the home appraisal.
An experienced realtor in your town can also tell you whether your home is up to the buyer's expectations or not. Whenever you want to find out what is the most accurate value of your home in a specific neighborhood or state, you should also consider getting a home evaluated by a professional real estate agent in your area.
Do you need room to negotiate?
mong the main questions that many real estate agents get from their selling clients is: Should I value my house above the market price? The problem is that most people do not understand that a homes price is not just knowing what the comparables that are based on numbers, but it also depends on how hot your current market is. If there are zero homes sold in the last 12 months with a lot of active listings in your neighborhood, then you can say that your market is what in the real estate industry is called the "buyers market."
If you're motivated to sell, you will need to price your home according to current market conditions. The truth is that overpricing is one of the biggest obstacles to selling a house. Take your time to analyze your market and get the best price to sell your home. Also, try to understand the general market situation. By nailing the price tag, you can get more buyers to bid, creating what the real estate industry calls a bidding war.
Upgrades that can make a significant factor
It is always better to know where prices are going before you make a large transaction. In a perfect situation, you would put a competitive price on your house and never again have to lower the price. Unfortunately, sometimes the best selling price is not the price you expected. The final sale price can be completely different.
You can always make updates in your home to maximize the sale price. Among the top 6 most common updates you can perform you can find the following:
Landscaping
Backsplash
Kitchen Cabinets
Painting
Walls
Patio terrace
Is Selling For Sale by Owner A Good Strategy?
Selling For Sale By Owner (FSBO) is becoming more popular recently, most likely due to the numerous online tools that may make selling easier. Nowadays you can go outside to take pictures of the house you want to sell, and you can upload them to a website. Just remember that you are going to be posting all your personal information online. By posting all your info online, you should expect to receive numerous amounts of phone calls and emails from all kinds of promoters. You become a target in this new online real estate marketing world. Expect as many as 5 to 20 calls a day from different real estate agents trying to persuade you to give them the opportunity to represent you as their clients. Also, expect prospective home buyers to ask you multiple questions regarding your home.
Many people are going to want to see your home; some of them are not even potential home buyers. The question you should ask your self is: Do I have the time to talk to various people, filter them, and coordinate showings? Utilizing the services of a realtor can save you time so you can focus on what matters. While you dedicate time to your main income-producing activity, your realtor can concentrate on keeping up with the current market situation. Realtors can do all the filtering of potential buyers, and they can also assist you by filling out all the selling contracts.
Experience Realtors vs. Novice FSBO Sellers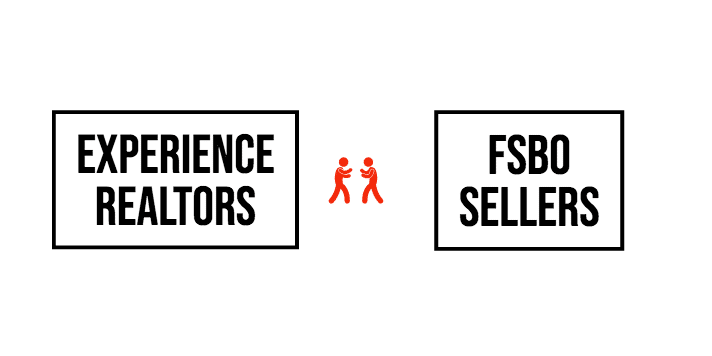 Novice FSBO sellers will not know what to do during the first 30 days after the purchase contract has been executed. Keep in mind that you need to locate the lender and submit the all required paperwork. Buyers will need to receive a pre-qualification letter from their lender before making an offer. Even if your client is not a cash buyer, they must submit their offer with the proof of funds. If a realtor represents the buyer most likely, you will receive a pre-qualification letter or a DU. Sometimes it takes just one buyer to complete your house selling process, but usually locating a ready, willing and able buyer isn't always as straightforward. Uncertainty will prevail whether novice home sellers are dealing with a first-time buyer, a savvy real estate investor, or someone who's seeking to downsize their house.
Experience realtors have access to all the tools, such as detailed home market analysis to find out the selling price of all the properties in your specific region. You are better off working with a realtor who will help you to target a large group of active buyers in a short period. Real estate agents can filter all buyers offers, and they can help you determine which proposal is better in a multiple offer scenario. Also, read this useful blog post How to choose an offer in a multiple offer situation. Most experienced realtors should have a grasp on the current market and also can detach themselves emotionally from their client's properties. By doing so, they can do what's essential to create a speedy sale.
Listing Agents
If you don't have the correct price strategy or a great marketing plan, your changes to sell your home are slim. Listing agents can help in many ways including home improvements tips, comparable sales or recently sold homes and price ranges to come up with the best price strategy from your property. Agents can help with selling a house fast but not because it is priced too low, is more likely their experience that are going to allow you to price your home correctly. Avoid watching your house sit for days on market or selling it at the lowest price leaving money on the table.
Your local listing agent is going to prepare a market analysis with recently sold homes, expired listings, active listings, and pending sales. A complete CMA for free and also you can get the best home improvements suggestions to maximize your selling price. Most listing agents can help you by providing a proven marketing and price strategy.
Final Thoughts
A local agent will track local traffic of buyers and know the kind of offers to expect in your town. Realtors have systems in place to manage paperwork electronically, and they understand how to fill it out correctly. Most of the experienced realtor can help during the closing process. They will lead you throughout the entire procedure. Make sure to verify that the buyers included a proof of funds for the initial deposit to their current realtor. The lender will also do his due diligence of the home and will require evidence of the deposit before granting a pre-approval letter. Having a realtor alongside will increase your probabilities of selling your home at its best price. You have the choice of selling your house by yourself, but the input of a local agent can be valuable for saving money.
Rather than posting your house online yourself, first you may want to listen to a few broker companies. If you're not actively working with online customers, then some of the scenarios you're going to see will overwhelm you. Experienced realtors have been establishing networks for years. They also have company relationships that lead them to maximize the selling price of your property. Our realtors can be quite attentive to your requirements and make sure your objectives are their primary focus. Make sure to contact one of our agents before listing your home for sale. Read our real estate homes sell guide updated January.