Rehab Property | How to Invest In Flip Projects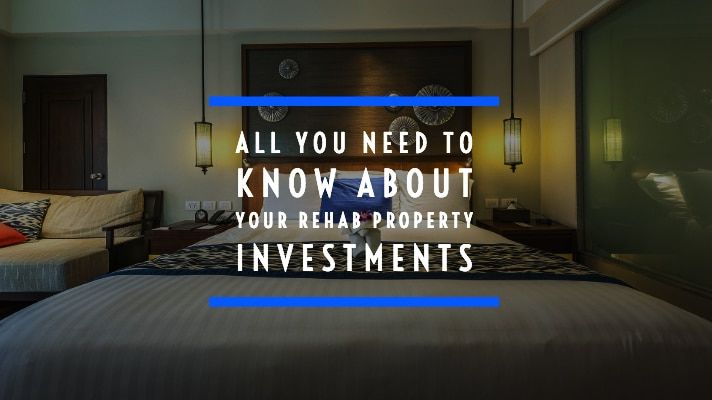 All You Need To Know About Your Rehab Projects
If you're looking to purchase a house, fix it up and sell it or "fix and flip," then you aren't trying to find a rehab home or property rehab project. Understand that under normal conditions, a regular first time home buyer won't be able to buy such a house. More frequently than not, buying a home is a person's single most significant financial investment. Keep reading to find out more about your rehab property investments.
If your property rehab project is in decent condition, all you have to do is repair or replace simple things like curb appeal, appliances, and other minor issues. Furthermore, by purchasing a suitable distress property and then upgrading it, you can find a specifically targeted niche of people that can only afford a "ready to go" houses. Most loans typically cover the purchase price, and new first home buyers would have to locate another source of financing to make their home improvements. Rehabbing houses is an excellent opportunity to discover the worst homes in the ideal neighborhood and rehab them. The result will be gorgeous and prepared properties ready for fantastic families to move in.
What is a rehab property?
A rehabilitation property or "rehab property" is just a term used in the real estate industry that refers to the renovation of a property. Another similar term commonly used to describe a rehabilitation property is "flip" or "flip a house." There are two types of rehabilitation: Total rehab which means that when you rehabilitate the whole property entirely, and partial rehab, which means when you remodel some specific parts of a property.
Why should you get a rehab property?
While real estate rehabilitation can be a profitable and exciting type of wealth creation, at the same time, you can decrease your investment portfolio if it is not done correctly.
Buying a rehab property could help you enjoy significant advantages, especially if the property is in a strong sector. There are many benefits when it comes to buying a house that requires a lot of work. Furthermore, if you can do part of the work involved, this can mean a higher return on your investment. Another benefit of the rehabilitation of a property is that you can use it for rental income for the initial stage of the investment.
Buying and renting is a strategy used by local real estate investors when they feel very bullish for the current real estate market in a specific area. Most tenants probably have the same high expectations that a buyer might have. You can identify problems with the property while receiving income from the tenants. The potential to maximize the sale price is very evident when using this strategy. The success of your rehabilitation property depends on many things, but especially on purchasing the property at the right price. A rental property is a perfect way to start generating passive income.
How to buy rehab properties?
The most challenging part for the profitable purchase of rehabilitation properties is finding the right property. Although there are tons of distressed houses out there, it can be quite tricky to get the right property to turn around. An important question to ask is: What type of investment can I afford? A local real estate agent can be useful to learn as a source for estate investing strategies. A local real estate agent can sit down with you before conducting any type of market research and review your financial options. Your investment also becomes your realtor's priority, giving you an advantage over other real estate investors.
When investing in real estate, you should hire a professional inspector to examine your potential purchases. An inspector should be able to offer you an idea of ​​what type of repairs you need for your investment before buying. You can find a step-by-step guide of how to prepare for a rehabilitation investment included in this article below.
How much does it cost to rehab a home?
The costs of the rehabilitation of a house depend on many factors, such as the type of material you would use, the delivery rates and the price of labor according to your geographical area. Some people decide to cut the cost of the contractor and do everything themselves. The truth is that, unless you have experience in home renovation, you will probably be better off using the services of a contractor who can help you determine the overall cost of repairs.
In general, the popular costs of restoring a property can fluctuate and are very relative. Expenses depend on a variety of factors, including where you reside, the age of your home, and the type of renovation your property needs. The average cost of renovating a kitchen can range between $5,000 and $35,000 depending on the space and layout of the kitchen. To remodel a small bathroom, you can expect prices between $4,000 and $15,000 depending on the cost of labor and materials in your area. These include accessories, bathtub, floors, and sinks with faucets.
Advice for the rehabilitation project: "Always take into consideration an additional 10 percent of the general expenses for miscellaneous work".
How to finance a rehab property?
Rehabilitation financial loans or "Rehab Loan" are different in many ways. Generally, a distressed property that is in poor condition and requires many repairs does not qualify according to the regular guidelines for traditional loans. Therefore, the industry standard real estate financing that investors use to rehabilitate properties is private money or hard money loans.
Hard money loans
Many different theories surround the explanation of where the term "hard money" comes from. Basically, a hard money loan is a short-term loan that is based on the property you are buying and has a much higher cost than conventional loans.
The hard money lenders are not worried about the credit score or the debt to income ratios. They are looking for specific factors such as the strength of the deal and the credibility of the investor. Some hard money lenders will require the borrower to provide an additional guarantee of real assets.
It is crucial to develop a strong relationship with a hard money lender if you are trying to finance your rehabilitation properties. The application process for hard money loans work faster than conventional loans and have more flexible real estate financing requirements.
Private money
Private money also called "private money lenders" generally comes from your sphere of influence. You will be surprised at how many private lenders will discover if you can provide them with a safe investment vehicle with a higher return than the interest rates of regular bank accounts. Private lenders can also be private organizations or investors that are dedicated to lending money as their primary business.
The only problem is that finding private lenders is much more difficult and, sometimes, it also takes longer to negotiate the terms of the rehab loan because you are dealing with a private investor. Remember that if you use the services of private lenders, you can expect them to charge an extremely high interest rate. Of course, the loan will be secured by your rehabilitation property.
How long does it take to rehab a home?
The general process for renovating a house can take between 1 and 7 months, depending on the repairs that the property needs. It is imperative to conduct inspections before buying the home. These renewal times are based on projects that require partial rehabilitation. Sometimes it can take more time depending on the type of permits the restoration may need. If you are starting with real estate investing, hire a local contractor who can guide you through the entire process. You can go to your local building department to ask for the permits that you need for your property rehab project.
5 Steps to have a successful rehabilitation property process
1. Home Inspection
The first step, as soon as you have a property under contract, is to hire a qualified property inspector or "home inspectors" to go to the property and conduct a full inspection. You must evaluate the property carefully, make sure that the property has no foundation problems or significant structural damage. For example, let's imagine you have a property you are thinking of buying. Answer this question: Would not it be an advantage to know in advance all the problems that need to be addressed? By identifying the issues, you can proactively search for contractors' competitive offers to complete all the work for you. Also, an inspection will help you estimate all repair costs to understand how much your final investment will be.
Professional home inspectors can go to the property to evaluate the condition and create a full report for you to rehab the property. Now answer this question: Don't you want to know everything from an investment before you make the purchase? A home inspection can help you estimate the cost for you to rehab the property. Flipping houses is a real estate business, and you should treat it as it is. Learn how to create business plans for your rehabbing project.
2. Take photos
It is always useful to take photographs of the entire property, but the most important thing is to document every repair that the property needs. Taking pictures will help you get a more accurate estimate and save you time in the rehabilitation process. A house flip requires precision when it comes to real estate investing strategies. Most of the success stories in real estate investing come from hard work and perseverance. Take photos of the curb appeal to see what can you improve.
3. Write a complete list of repairs
A fantastic trick is to have a complete list with questions ahead of time, because there is always an opportunity to forget something, especially in case you have to visit more than one property on this day. A list of repairs will be useful when trying to get a general idea of the cost of your final investment.
4. Get different quotes
There will always be different price ranges when you try to rehabilitate your properties. You will learn over time how important it is to find different quotes, make sure to shop around before making a final decision. Also, keep in mind that working with reliable people who can deliver on time may cost a bit more, especially if you want to be able to sleep at night.
5. Hire a contractor
When you hire a contractor for your rehabilitation project, you should analyze in detail all the tasks that must be completed. After you get a property under contract, you should consider calling several contractors and getting free estimates for the entire rehabilitation project. In most cases, the contractor will determine what permits are needed depending on the type of work. If the contractor arrives late on the first date, that can predict their ability to control time and if your project will be completed on time. The simplest thing to do is to call a couple of general contractors in your area and tell them you have a rehabilitation project. Most contractors will provide you with an approximate estimate within days after the evaluation of your property.
Rehab property checklist of the primary 7 most important things to do when flipping houses
Demolish, clean, and remove all trash
Have your contractor fix any major issues
Fix and replace flooring, baseboards, and doors
Replace all plumbing and air conditioning systems
Purchase new light fixtures and appliances
Fix walls and paint
Upgrade the landscape
Selling a Rehab Property vs. Renting a Property After Rehab
Buying pre-foreclosure homes is an excellent method to construct your portfolio of properties and build your net worth. If you find a house and you wish to rehab it, you could make some capital gains by boosting its value in a brief time. Also, you can rent the rehab property and pay off the current loan with the rental income money that is going to produce.
Renting the rehab property is a different approach to replace a traditional sale. Applying for a 30-year fix rate loan is a feasible option in this case.
The critical point to know is that you need to buy the rehab property with a significantly profound price reduction. After fixing the house, you should make sure that it isn't dirty when buyers come to for the showing. The second action to do is staging the home. Read our guide to get a better understanding of how to stage a house for sale.
If you want to hold the property for only a limited time, then a speed of funding is crucial. You are looking for homes that buyers want, and if you're doing your job right, you shouldn't have a property on your hands more than a few weeks. The other option is to put rehab property on the open rental market to create a monthly rental income. Estimating cash flow has become the most significant part of buying investment property. Make sure you take into account the home maintenance cost if you decide to keep it as a rental property.
The Art of Finding Rehab Properties
When you are wholesaling properties, you are buying the properties at an affordable price. You may want to sell the property off as quickly as possible to obtain the maximum profit potential and acquire new other more rehab properties. At this time you can use the capital gains from the very first property, which means that you don't have to come up with more of your own money to purchase other rehab properties. Another technique commonly used is to locate individuals who are moving from a single family to an apartment. They usually have a lot of capital gains accumulated and have some room to negotiate. Purchasing local real estate in an auction is just another of my favorite strategies, but it does come with a few risks.
Another investment rehab strategy is to purchase multifamily properties to generate passive income. In this real estate transaction, you put money into a particular property with 2 or more units. There are plenty of reasons why these types of properties are scarce in the current Miami market. With so many terrific bargains readily available in other markets, acquiring hard money from private lenders allows you to buy bargain deals. Other popular option includes short sale properties, and perhaps you may want to look into foreclosure properties as well.
Technology is evolving when it comes to finding total rehab or partial rehab properties. You don't have to drive around the neighborhood like the old days. Now you can talk to your agent, and they can locate distressed properties for you and send them directly to your email. Also, you can get a free comparative market analysis when you work with an agent.
Everything You've Learned About Rehabbing A Property Is Wrong
Make sure your Realtor acquires all buyers contact info, and have him build and add them to a buyer's list. A buyer list is essential for investors who try to flip properties for fast cash. As soon as your Realtor have a buyer's list, then it's time to sort out your roster and start finding rehab properties.
Another option is to use private lenders when buying rehab properties. Private lenders do not need strict lending guidelines as institutional lenders do. They are individuals who are willing to loan money that they have in a bank earning a percent interest. Utilizing a private lender allows investors with blemished credit to purchase investment properties. A conventional lender will require all documentation before the loan process starts.
Keep in mind when rehabbing a property you might need to obtain a duplicate of the Certificate of Occupancy (CO) in the majority of counties to be able to reside in the property again. Another option to purchase local real estate is by utilizing a hard money lender. When buying a pre-foreclosure, a hard money lender charges a higher rate of interest and usually points upfront. You should evaluate all your investment options. I think that with regards to rehabbing homes, hard money lenders can be a possible option to assess.
Cash Flows
A Fix and Flip or rehab property generates a faster return on investment and typically requires a more considerable amount of capital. But, not all rehabbing projects have success stories. If you don't estimate the cost correctly, your capital gains can go to zero, or you can even lose money on a deal. That is why it is crucial to treat a house flip as "real estate business." Another of the real estate investing strategies that you can apply in this case is to keep the investment as a rental property. Most investors look for rehab properties to keep as a rental property because they can purchase the asset for a discount price. They are therefore generating a higher return on investment and cash flows.
Final Thoughts
When looking for properties to rehab you might also find a seller that is experiencing a divorce, and the couple doesn't want to keep on paying the mortgage. There are lots of ways to locate motivated sellers when you're wholesaling houses. A motivated seller is a person who would like to sell her or his property in the quickest time possible. The regular home buyer will have to get qualified for a mortgage, and that is going to take thirty days. You're much better off selling to buyers that are actively investing in properties. You will always want to know a few cash buyers when you're wholesaling properties.
Anywhere in the US (Florida, South Dakota, North Dakota, North Carolina, South Carolina, Rhode Island, etc.), you can always find a local real estate agent to help you start learning about real estate investing. If they don't have experience flipping houses, they can point to where you need to start. Our real estate guides are full of content about real estate in general, and it is like a learning center. The "Fix and Flip" art starts by learning how to purchase the right rehabbing project, and creating small business plans for each house flip. Learn how to estimate the cost to rehab the property.
I hope you have learned more about the difference between a "Fix and Flip" and a rental property. Both can be used as real estate investing strategies when it comes to rehabbing houses. To learn more about permits visit your local building department. Read our popular posts on the best approach to price your property.