All About Choosing Between Multiple Offers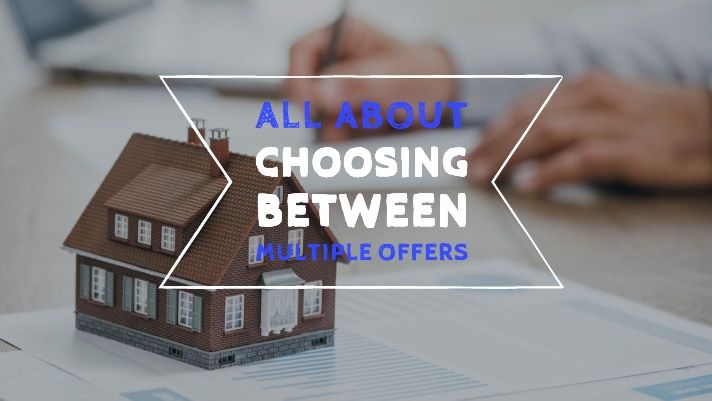 Choosing Between Multiple Offers
People can start putting money into real estate even when they are still in college. Real estate may be a lucrative alternative, but everyone should make informed decisions and take consistent action. Selling real estate in Miami or somewhere else in Florida can be tricky, and deciding on the wrong agent can be a costly affair. A real estate agent can be a great asset when it comes to choosing between multiple offers, especially if you're starting with real estate investing.
How a Realtor Can Help You With Multiple-offers
When a realtor has marketing experience, you'll probably find several individuals looking at the property within an incredibly short period of time. Therefore you could expect a greater number of offers that the owner is going to receive. Sometimes, the signs are not as clear if the property is a good fit or not for the client. That is why selling an investment property can one of the most crucial decisions any property investors should make. It can be overwhelming on how to start selling the property, mainly if it's the very first time. I was fortunate enough that my first real estate investment property was a total success, but that is not always the case. That is why it is crucial to have an experienced realtor to guide you into choosing between multiple offers.
The seller will sense and get a better feeling the day of the open house. Individuals can do everything necessary to buy a house nowadays. For many people, purchasing a home is probably the single largest financial transaction of our lifetime. Keep in mind that the most significant investment in the house after the purchase process is the renovation. That is why selling an old and ugly home could be very complicated.
Moreover, as soon as you are thinking should I sell my home, you should start thinking about reducing the expenses for the future owner. When you're deciding to sell the house, you must talk to an experienced agent. If you opt out of selling your home on your own, know that it is necessary to have someone you can count to facilitate the process and provide expert advice.
Common Mistakes of the Seller With the Choice of Offers
If it's about selling your house, it's easy to make mistakes. Selling your home can be easy and stress-free only if you have the proper guidance. Yes, it is discouraging to sell your home without knowing the process of selling a house in depth. Therefore, working with a realtor will allow you to concentrate on your main source of income.
Top 5 Mistakes of Operating Without a Realtor
Loose focus on your primary income stream
Not receiving the very best price for your home
Pressure to accept any offer that arrives in
Prolonged closing due to the failure of consistent follow-up
Inadequate marketing of the house
There is an extra risk where you could end up paying the mortgage on the property for a prolonged period if the house is not sold. It is a considerable risk, especially in the case of a decline in the housing industry. If you sell your home, you are likely going to buy another one, for which you will require a down payment, as well as monthly mortgage payments. It the end, you could end up with two monthly mortgage payments, primarily if your house is not marketed correctly.
People today decide to sell their homes for several reasons. If despite the tax exemption on capital gains, you choose to transform your house into a rental property instead of selling it, you can depreciate it for tax purposes. Selling a home is naturally a complicated procedure. A realtor will provide all the work of marketing and will assist you to buy a new house. There are some realtors that might accept a lower commission rate if approved by her or his brokerage.
Key Pieces of Choosing Between Multiple Offers
With the right strategy, you would end up securing an offer pretty quickly. If you are anticipating receiving an all-cash offer, make sure the buyer sends in the proof that they can afford the transaction. Also, make sure that the buyer has enough to cover all of the closing expenses on his end. It's imperative to realize that real estate offers aren't binding; therefore sometimes an all-cash offer can result in one of the best choices in most cases.
Each offer has different advantages and drawbacks. Most all-cash offers tend to be lower and commonly used as a negotiating strategy. Be flexible and patient, if you get an unacceptable offer through your realtor, do not reject it at once. Keep in mind that a way to pull a good number of proposals is to have an open house. Another way to pull numerous offers is to stick out in some manner. Some people use an approach of drawing many proposals just by keeping the property on the market for a specific time. Be very careful with this approach because it can be a very risky one. It's all going to depend on the type of market your area is currently in. Supply will determine the ideal price offer to accept for the house you're selling.
Final Thoughts
Most people think about investing in real estate due to the potential for higher returns in contrast to other assets. No matter when you start, real estate investing is among the best assets to acquire for your financial portfolio. Traditional real estate investing is a well-known means to raise your wealth, but there are some key points you should have a look at before you leap.
In the procedure, "for sale by owner" sellers lose countless prospective inquiries and offers on their properties. A trained real estate agent can provide a precise valuation of your house. If you would like to be referred to the ideal agent feasible for the job, then feel free to contact us. The best real estate agents are the ones that can present your home to the most qualified buyers. Conventional real estate companies might have more local knowledge' of a particular place. Thus, a realtor of a local company can better handle the circumstance and negotiate for your benefit.